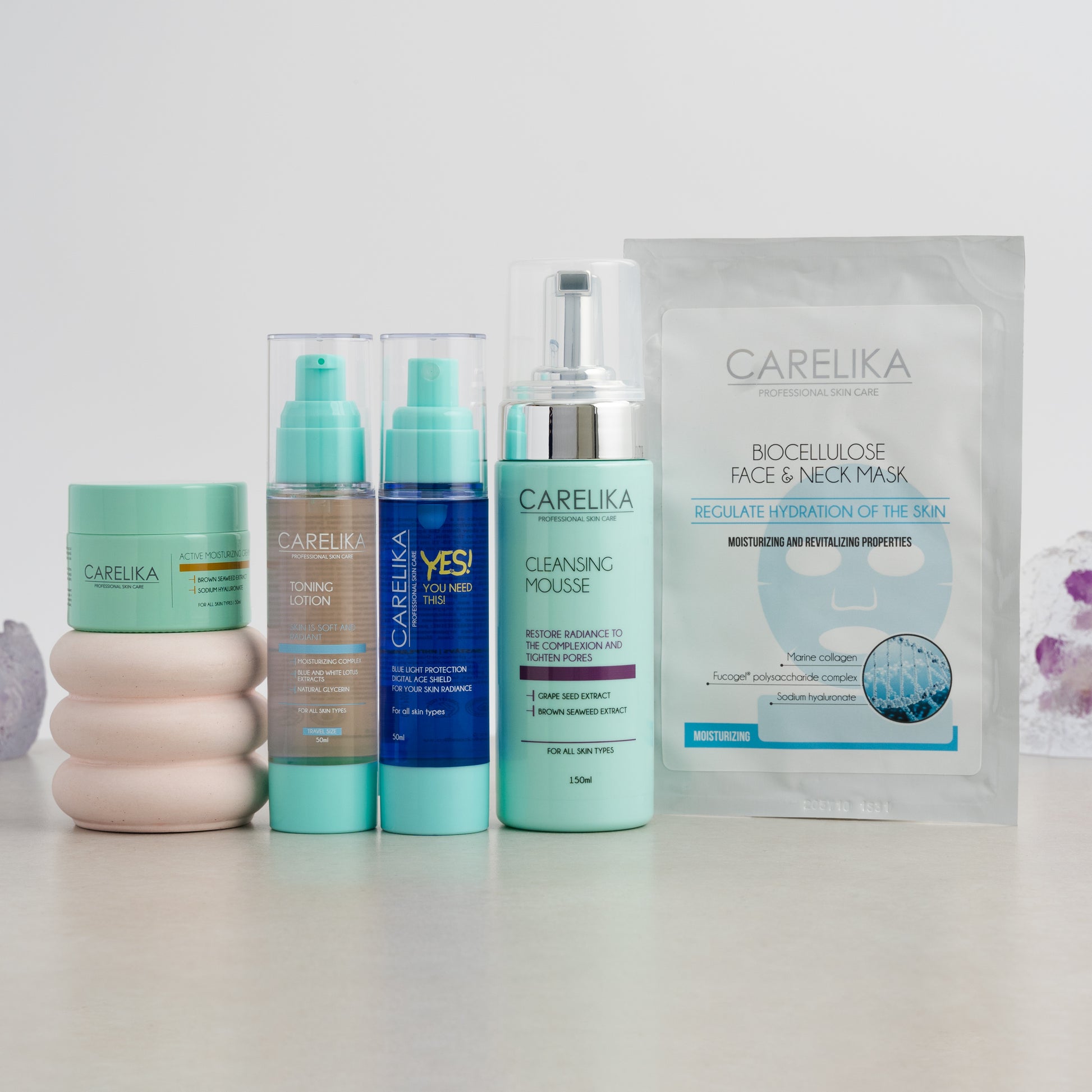 Hydrate and Glow Moisture Oxi Kit
Description
Taking care of your dry skin needs daily care. Moisturizing and toning will help your skin stay naturally firm. But that is not all, what if you get hydrated supple skin that is cleansed and protected from blue radiations at the same time? Carelika offers a uniquely crafted Hydrate and Glow Moisture Oxi Kit that contains a moisturizing foam that lands on your skin in a mousse form and cleanses it gently while hydrating it intensely. Combine this with a toner and a moisturizing cream that help slow down aging to give a long-lasting moisturizing effect for naturally firm skin. The blue light protection spray protects you from hyperpigmentation that may occur indoors due to blue light. The bio-cellulose face and neck mask provides essential nourishment for moisture surge and restructured firmness.
Contents of the kit:
Order your Hydrate and Glow Moisture Oxi Kit today for soft, hydrated, and young-looking skin!

How to use it?
Highlights
Carelika's Hydrate and Glow Moisture Oxi Kit deeply cleanses, moisturizes, restores radiance, and slows aging due to the following benefits:
Begin the ritual by massaging the cleansing mousse on damp skin. It has grapeseed extract, a powerful antioxidant, and brown algae actives that intensely moisturize your skin while cleaning it smoothly. They help restores skin elasticity.
Now tone your skin with alcohol-free toner with blue and white lotus extracts and red seaweed extract and glycerine that hydrates your skin completely. Rich in antioxidants, toner protects your skin from harmful free radicles.
Beat the dryness with a moisturizing cream made from Laminaria seaweed extract, hyaluronic acid, and plant glycerine which naturally restore skin hydration by stopping water loss and thus maintain elasticity. This helps skin look supple and plump, and reduces the appearance of fine lines.
Add CARELIKA Blue light protection shield, a spray that contains OXYGESKIN®. This patented complex is derived from Tropaeolum majus extract. It protects from pigmentation and inflammation due to digital radiation. So, improve your skin oxygen level dynamics safely and naturally!
Glaze your skin with intense nourishment for a velvety soft touch. Use a natural, skin-friendly bio-cellulose mask to comfort your skin. The natural collagen will restructure your skin's elasticity making it firmer and tighter.
24-hour hydration for a firm and bouncy skin
Protection from screen-time damage
Reduces pigmentation
No white cast
Power of herbal and marine extracts