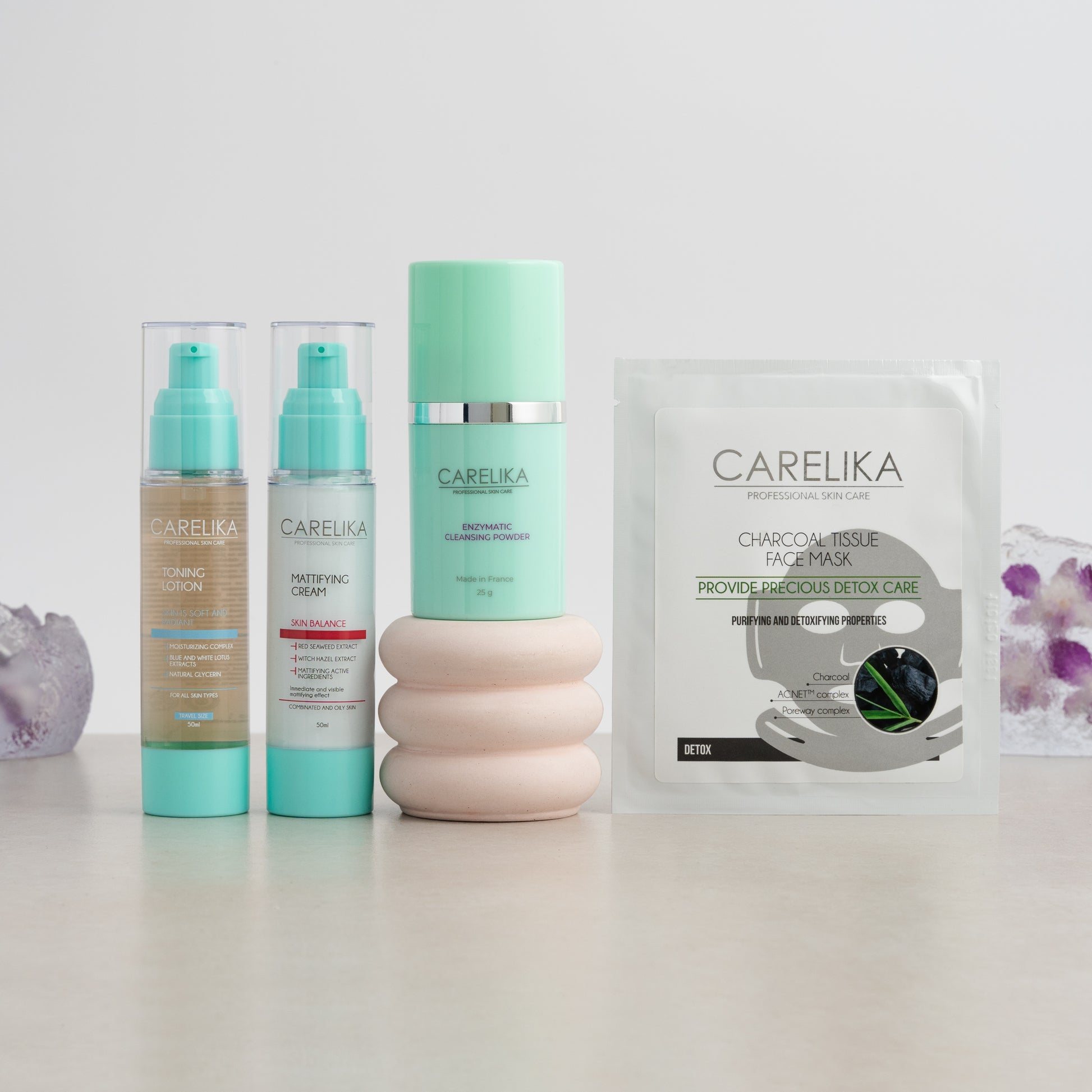 Fresh Start DETOX Ritual Kit
Description
Carelika's Fresh Start DETOX Ritual kit is a unique combination of four bestselling facial products that detoxify your skin to give you a fresh look. This skincare ritual has everything you need for a rejuvenated feel. Why wait? Choose your way to detoxify your dull and exhausted skin with our uniquely and consciously crafted formulas. The cleanser will deeply and gently cleanse your skin pores to remove dead cells and clogged matter. The toner will hydrate and set your skin tone perfectly to avoid any imbalance on the skin. Use the charcoal fabric face mask to gently exfoliate when you feel it absolutely necessary, and then nourish your skin with a mattifying cream that contains powerful antioxidants, vitamins, and flavonoids from the natural source.
Fresh Start DETOX Ritual includes:

How to use it?
Highlights
Follow the DETOX ritual regularly to purify and add a natural glow to your complexion.  
The enzymatic cleansing powder regenerates your pristine skin by peeling and removing the unwanted skin debris that blocks your pores. The extracts of rice, papaya, and pineapple gently cleanse off the sebum without irritating the skin. The papain enzyme does the peeling and boosts the production of new cells, whereas pineapple enzymes provide anti-inflammatory properties to soothe your skin.
The second step is to dab some toning liquid made from Fucogel and sodium hyaluronate to give you super soft and silky skin.
Use the charcoal tissue face mask whenever you find it necessary. Apply the mask to your face, and relax as it snuggly fits on your face, exfoliates, and hydrates. It is made from bamboo charcoal soaked in a serum that delicately removes all the toxins and skin impurities.
The last step in the ritual is to apply some mattifying cream that gives a natural glow to your skin. The red seaweed extract, hamamelis extract, and African tree bark extract tighten the skin pores, reduce sebum production, and makes the skin hydrated.
Gentle exfoliation and detoxification
Calming and soothing formula
Stimulate and renew skin cells
Hydrates and tones the skin
Antioxidant and anti-inflammatory properties