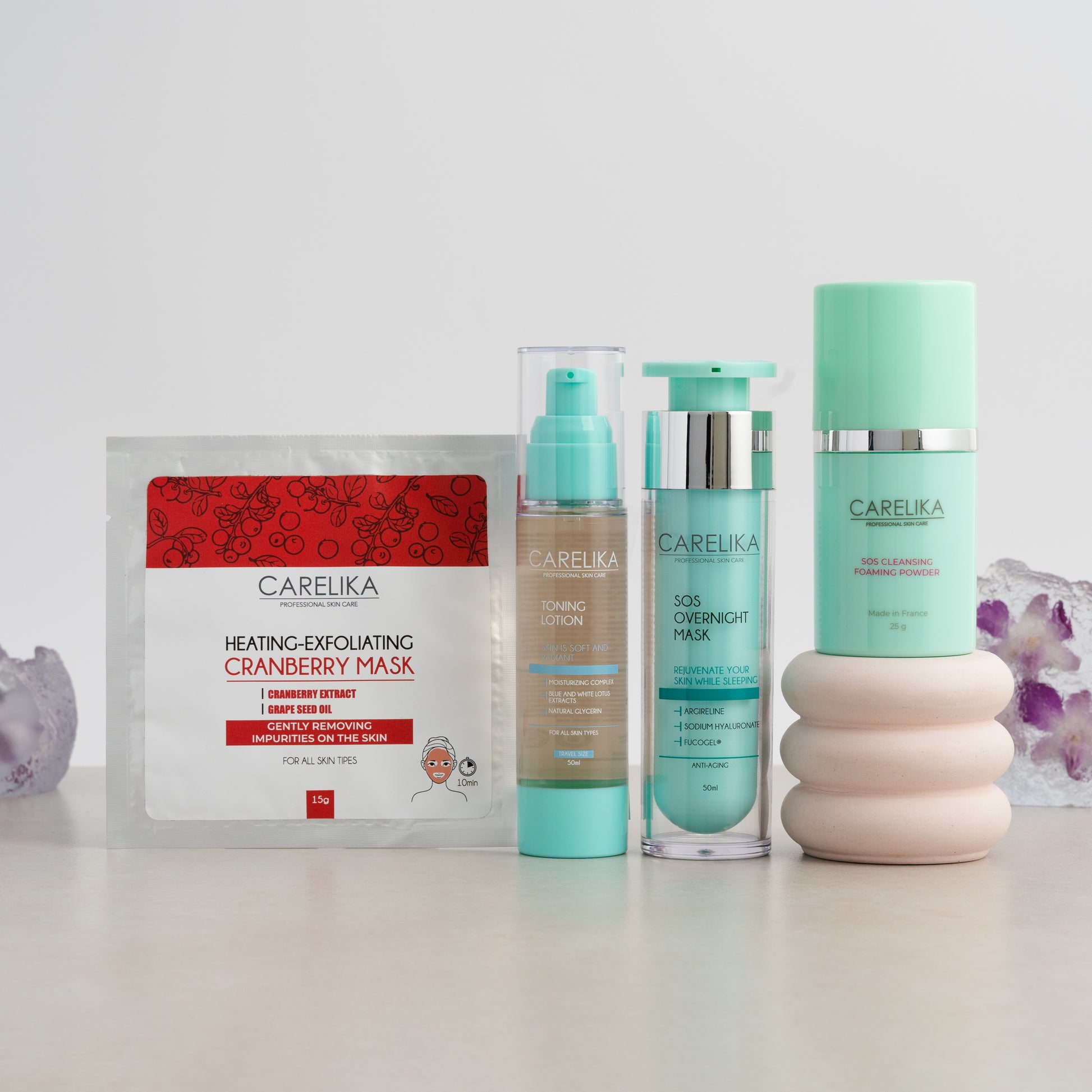 Looking for a quick solution to fight off the fine lines? Want an express facelift for a party?
Try Carelika's Express lifting kit. We have combined an SOS cleansing foaming powder that deeply cleanses your skin and balances the sebum secretion. With a toning liquid that hydrates to maintain a perfect skin tone. You can then indulge in two different face masks for instant facelifting. For an exfoliating effect use a heating mask with cranberry extract that provides nourishment and antioxidants. The overnight mask stimulates a sense of serenity and induces restful sleep. As you sleep the powerful agireline from the mask slowly contracts facial muscles without any discomfort while the hyaluronate and fucogel make your skin look plump and bouncy!
The express lifting kit contains:
Order your express lifting kit, enjoy firm and hydrated soft skin and adorn a youthful glow.

How to use it?
Highlights
The Express skin lifting ritual combines the carefully curated unique formulations with the following benefits:
Begin the skin lift ritual with Ultra 0 mild SOS foam powder deep cleanses skin pores and removes impurities on the skin. Enriched with allantoin that exfoliates the skin and aloe vera powder that softens the skin and repairs the natural barrier. It also has corn starch to absorb excess sebum and normalize the secretions.

Use a as a second step to have an even tone and hydration of your skin with the help of plant glycerin, red seaweed extract, and blue and white lotus extract for soft and glowing skin. Marine moisturizers and natural antioxidants keep your skin protected from environmental damage.

Use a heating and exfoliating made with cranberries and grape seed oil to absorb dirt and excess skin oil. Powerful botanicals provide instant nutrition to rejuvenate and glow.

End your skin lift ritual with a deep-acting that slows aging with argireline that acts similar to botulinum toxin. Fucogel moisturizes skin, while sodium hyaluronate hydrates the skin giving it a glow. Rinse it off in the morning to get young-looking skin.

Instant rejuvenation and luminous skin
Reduce face puffiness
Natural and non-surgical alternative to BOTOX
Combat fine lines and enhance skin elasticity
Broad-spectrum multi functional formulas