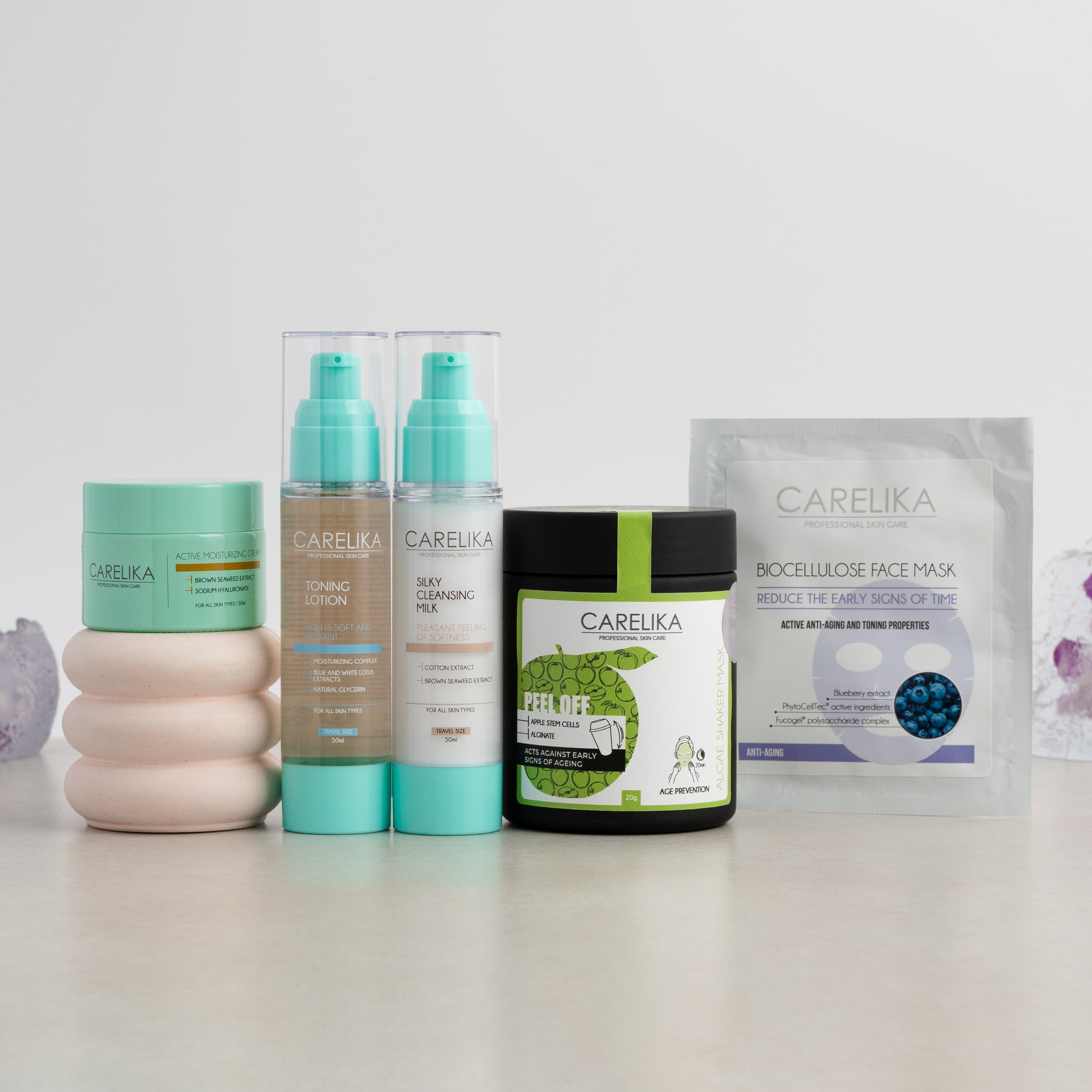 Description:
Thin lines, wrinkles, and pigmentation are signs of aging. Slow down your aging with a scientifically proven all-natural combination kit from Carelika enriched with apple stem cell extract to increase the longevity of your skin cells. The five-step beauty ritual includes a silky cleanser to clear skin impurities and a toner that helps restore and lock the natural moisture. Active moisturizing cream adds further moisture to your skin. Boost this up with two different and very effective face masks. The Shaker Peel off mask helps restore microcirculation, slow down aging and smoothen your wrinkles. The Biocellulose face mask has active antiaging and smoothening properties to assure a silky velvety feel.


The kit contains:

How to use it?
Highlights
Carelika Antiaging kit is your partner in combating the first signs of aging. The benefits of this comprehensive care are as given below:
Your first step has to be cleansing the skin with Silky Cleansing Milk that removes makeup from the face and leaves it smooth. Enriched with cotton extract, laminaria extract, and plant glycerine, it repairs barrier properties of skin and ensures deep hydration and rejuvenation.
Tone your face after cleansing with carefully crafted alcohol-free toning lotion that contains red seaweed extract, and blue and white lotus extracts. The power of natural antioxidants keep you protected from harmful free radicles.
The third step includes using a moisturizing cream made with brown seaweed extract, hyaluronic acid and plant glycerine. It restores skin moisture and improves skin radiance.
Slowing the aging process needs skin rejuvenation and improved blood circulation. The Apple stem cells algae peel-off shaker mask is all you need to smoothen wrinkles and improve elasticity. It gives you velvety soft skin.
Top it up with biocellulose face mask that contains blueberry extract, Fucogel® and Phytocelltech® active ingredients that fight aging to ensure flawless skin youthful skin.
Wrinkle smoothing and lifting
Restores elasticity and improves texture
Lightens pigmentation and brightens
Goodness of apple stem cell extract
Natural hydration and rejuvenation