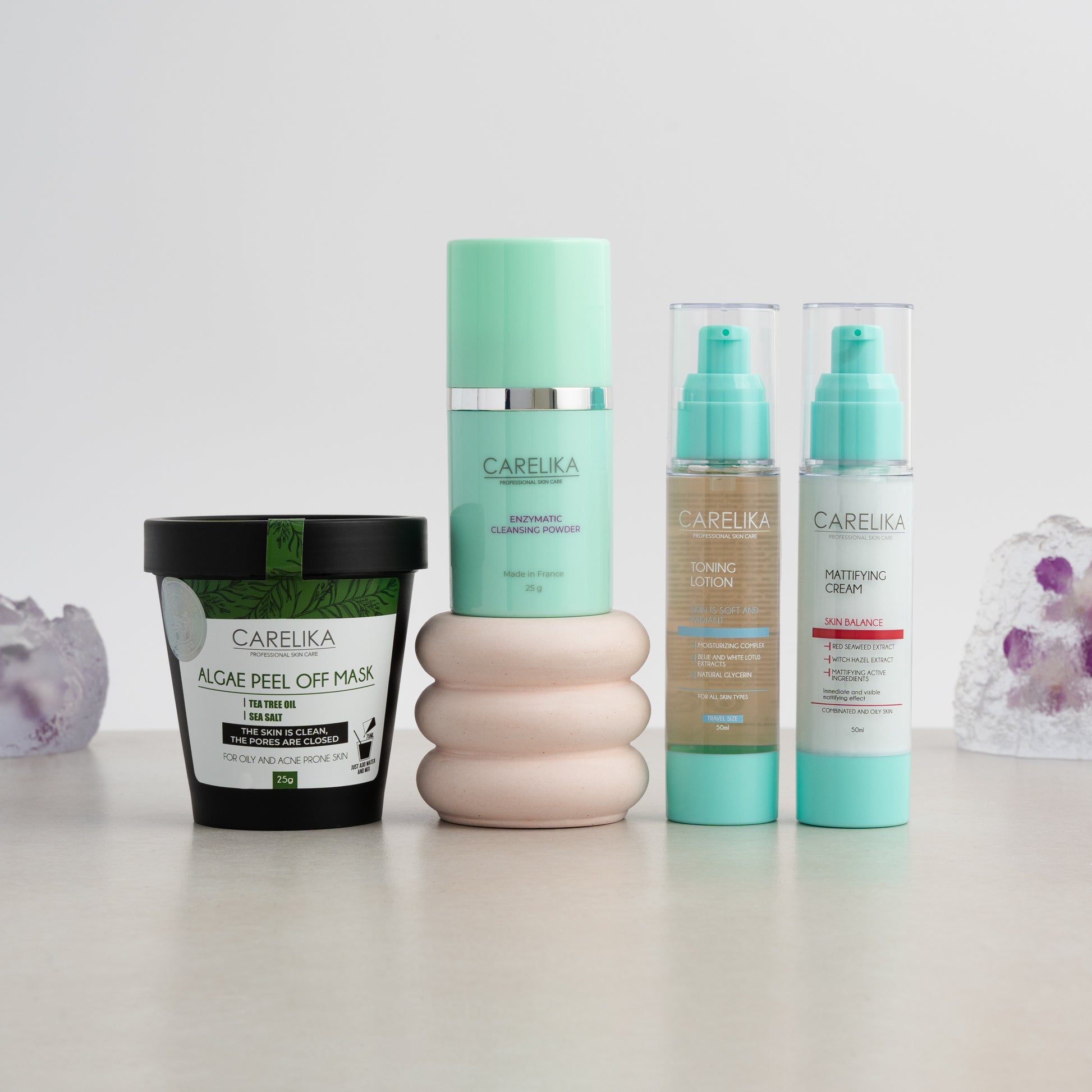 Description:
Do you have acne-prone skin? Carelika brings you a holistic approach to a scientifically proven combination of facial treatments to control nasty acne outbreaks. This kit helps you with an acne-fighting regimen that begins with cleansing your skin to remove dead cells and impurities. After cleansing you need toning. Our toning liquid hydrates every cell of your skin, and balances excess sebum production leaving it soft and soaking it with essential nutrients. Then you need a face mask that has all the goodness of tea tree oil which is antibacterial and perfect for acne-prone skin. You can simply end the ritual with a mattifying cream that nourishes your skin.
The kit contains:
The acne control kit is a perfect combination of natural ingredients that cleanse, tone and help remove acne-causing bacteria while getting off the acne pigmentation. Embrace this regimen for flawless and acne-free skin.
What are you waiting for? Order today. Get your transformational treatment and clarifying skin care with Carelika's Acne control kit

How to use it?
Highlights
Description:
The first step is using enzymatic cleansing powder which is a blend of natural extracts of papaya, pineapple and rice with the papain-an enzyme. The enzyme regenerates the skin by a soft peeling action that cleanses without irritation.
The cleansed skin needs toning. The Red seaweed MASTOCARPUS extract with the blue lotus extract increases skin radiance. Rich in Fucogel and sodium hyaluronate your skin gets hydrated and glows.
The third step is a peel-off mask with tea tree oil that tightens the pores and controls excess sebum production. Its antibacterial and anti-inflammatory effect helps your skin heal faster. Sea mud with zinc, along with willow leaves remove the acne blemishes and seal the moisture in the skin. Apply a uniform layer of freshly reconstitutes mask as described on label, leave the mask on the face for 20 minutes and peel off in one piece from bottom to top.
Restore the skin balance with mattifying cream made from red seaweed extract, hamamelis extract, and African tree bark extract. These phytonutrients stimulate cells, improve microcirculation, hydrate the skin, reduce sebum secretion, and control the shine on your face.
Active acne control
Minimizes future breakouts
Unclogs pores
Balances excess sebum production
Skin-soothing and nourishing formulas
Exfoliates dead skin cells
Healing and anti-inflammatory