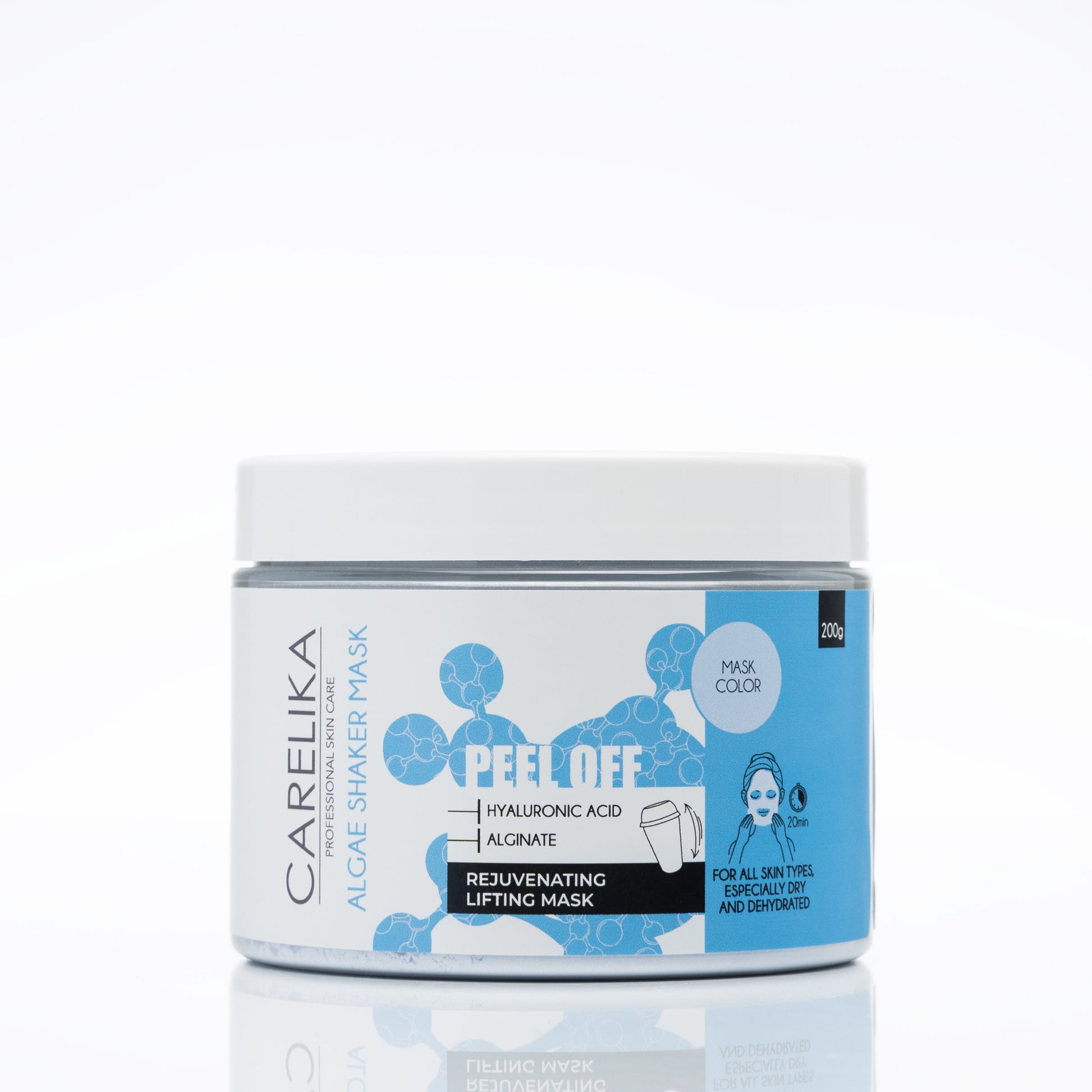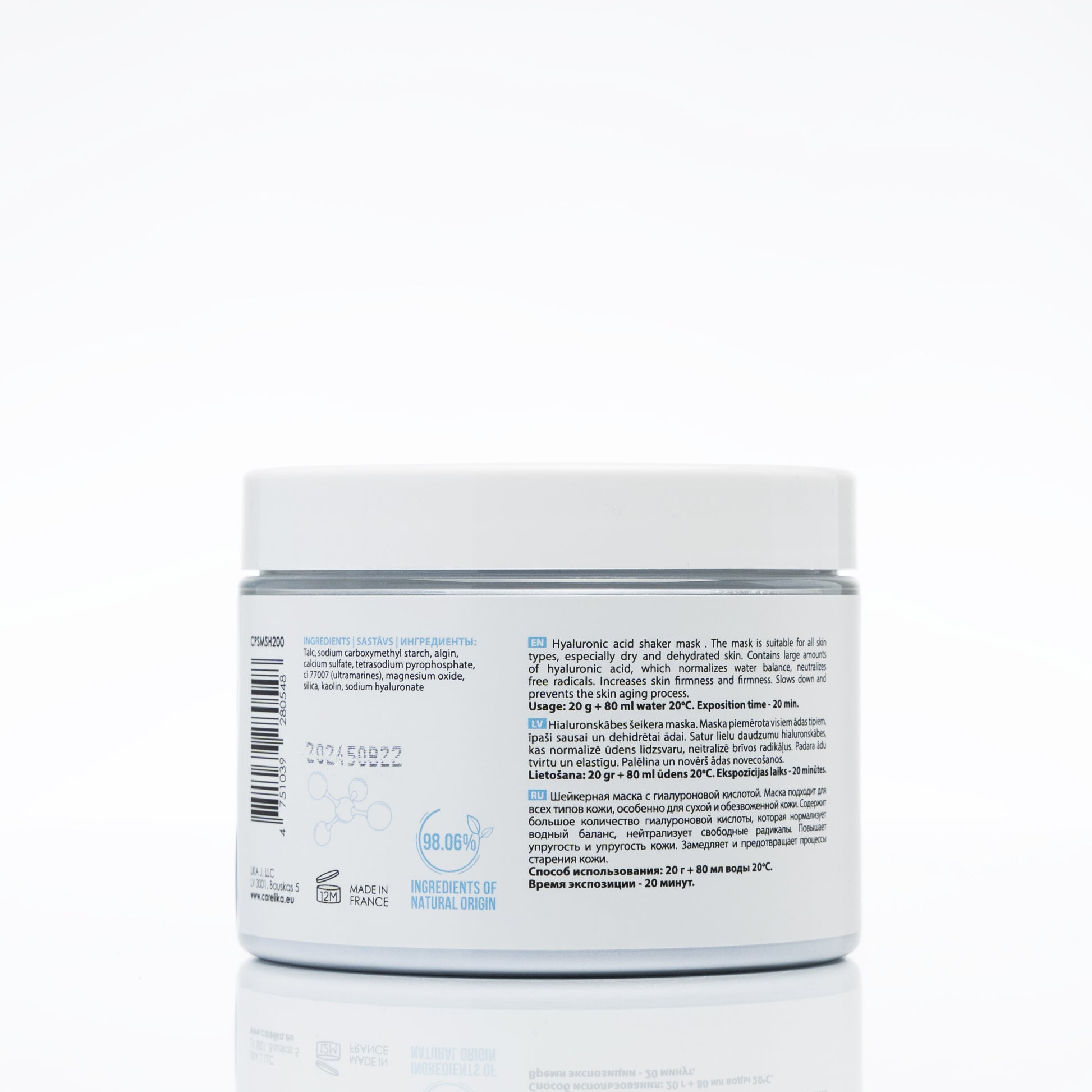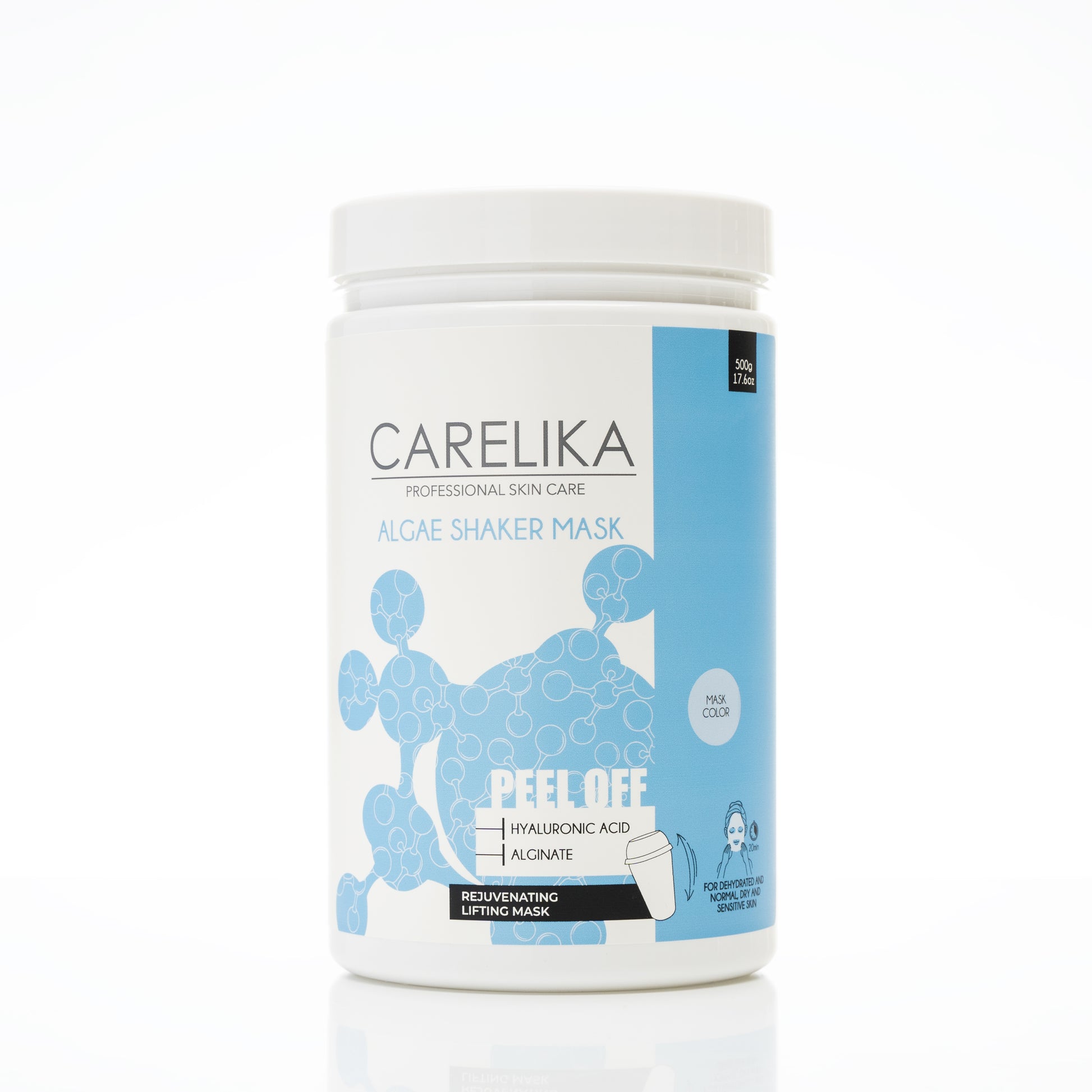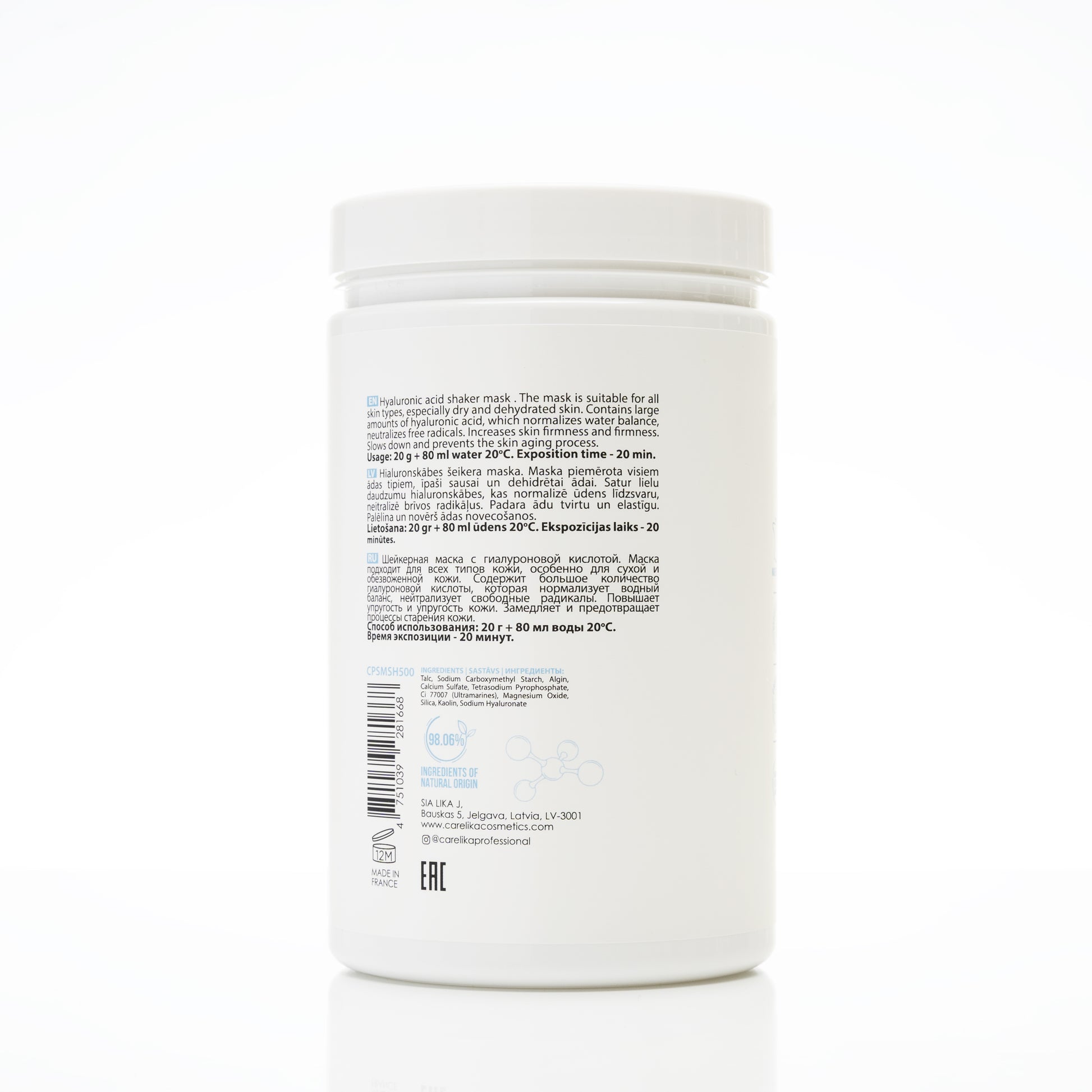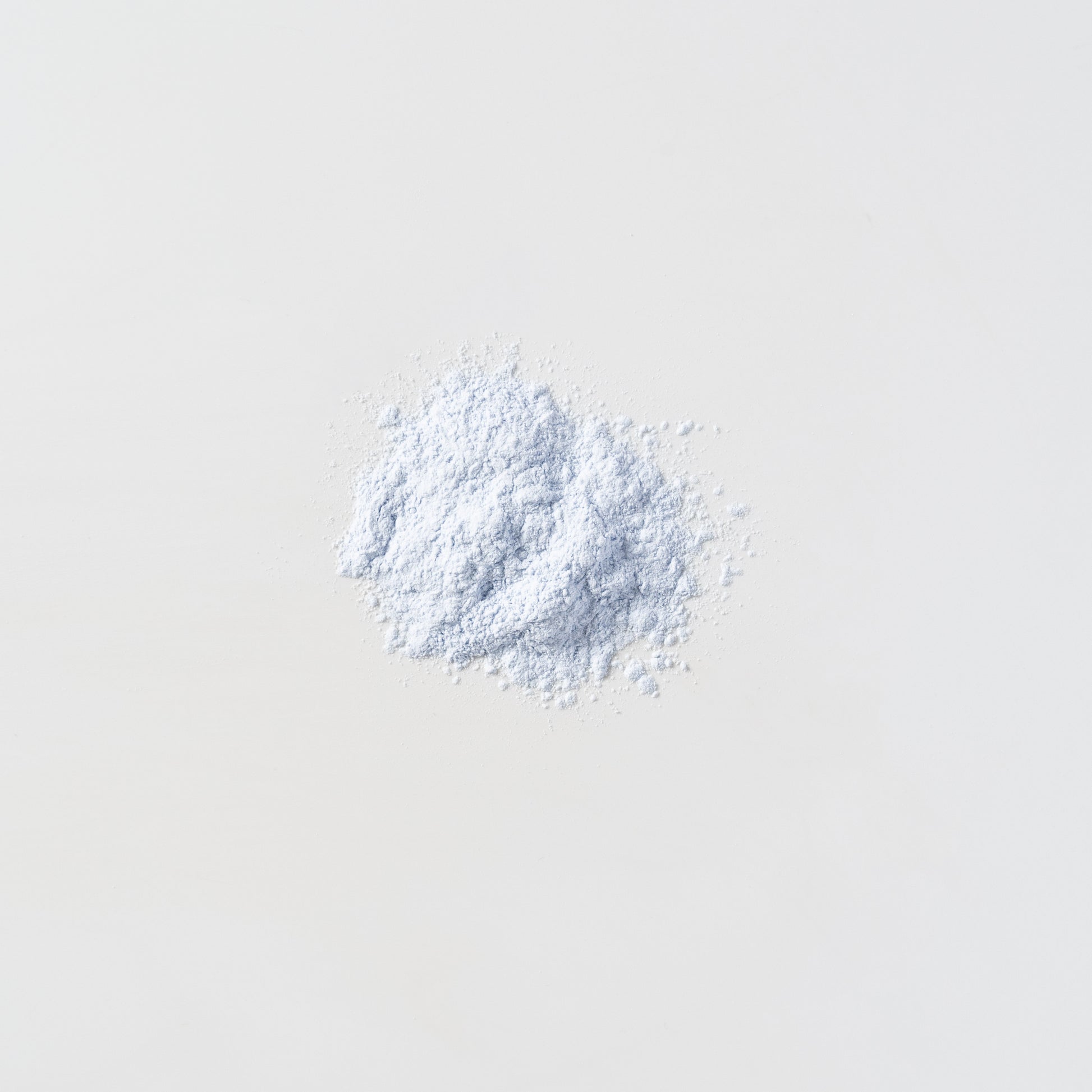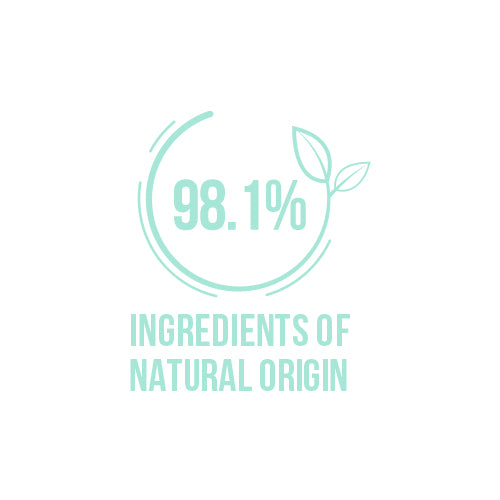 Shaker Peel Off Mask Hyaluronic Acid Professional
What is it?
The CARELIKA Shaker Peel-Off Mask with Sodium Hyaluronate is your choice for moisturizing a dehydrated complexion. Also suitable for everyone, this peel-off mask provides adequate hydration so that a perfect moisture balance is maintained. Loaded with active ingredients such as alginate and sodium hyaluronate, it imbibes enough moisture to give you relief from dry and flaky skin.
Easy to mix and apply, the mask fits onto your skin such that when it dries you can easily peel it off in a single piece. The mask remodels your skin into a firmer yet flexible structure. The mask slows down the skin ageing process as it improves the tone, neutralizes free radicals, and enhances texture giving you a soft and supple look. The mask works on removing wrinkles to make you look younger.
Easy to mix with water, the alginate-based mask will never leak while applying and is also easy to remove in one piece!  It's a no-mess mask that you don't have to wash off. Indulge in maximum hydration and improved skin tone with the CARELIKA Shaker Peel-Off Mask with Sodium Hyaluronate.
What does it do?
Provides intense hydration and maintains moisture balance.

Gives a soft and supple look.

Improves skin texture and tone.

Neutralizes free radicals and refreshes the skin.

Reduces deep wrinkles.

Relieves inflammation and gives a youthful look.

How to use it?
Ingredients
Here are the instructions to use the peel-off shaker mask:
In a shaker, mix 100 ml of water at 20°C with 25 g mask powder.
Shake it vigorously for 5 – 10 seconds to form a smooth paste.
Apply the paste on the face using a brush.
Relax for 15-20 minutes as the mask solidifies and does wonders on your face.
Peel it off in one piece.
Apply a few drops of serum or cream
Talc, sodium carboxymethyl starch, algin, calcium sulfate, tetrasodium pyrophosphate, ci 77007 (ultramarines), magnesium oxide, silica, kaolin, sodium hyaluronate

It's the inside that matters!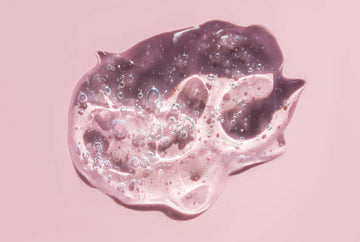 Sodium hyaluronate
It is an excellent moisture absorber with sponge-like properties, that imbibes excess moisture into the deeper layers of skin.  It forms a breathable film on the surface and thus locks the moisture to promote freshness. It rejuvenates the skin by improving its viscoelastic properties and significantly decreases deep wrinkles.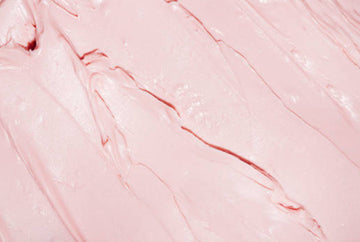 Alginate
Extracted from brown seaweed, alginate deeply moisturizes the skin. Its antioxidant, anti-inflammatory, and antibacterial actions help reduce inflammation and irritation. Being a rich source of nutrition, alginate nourishes your skin with a refreshing look. Get a supple, fresh, and clear complexion instantly!