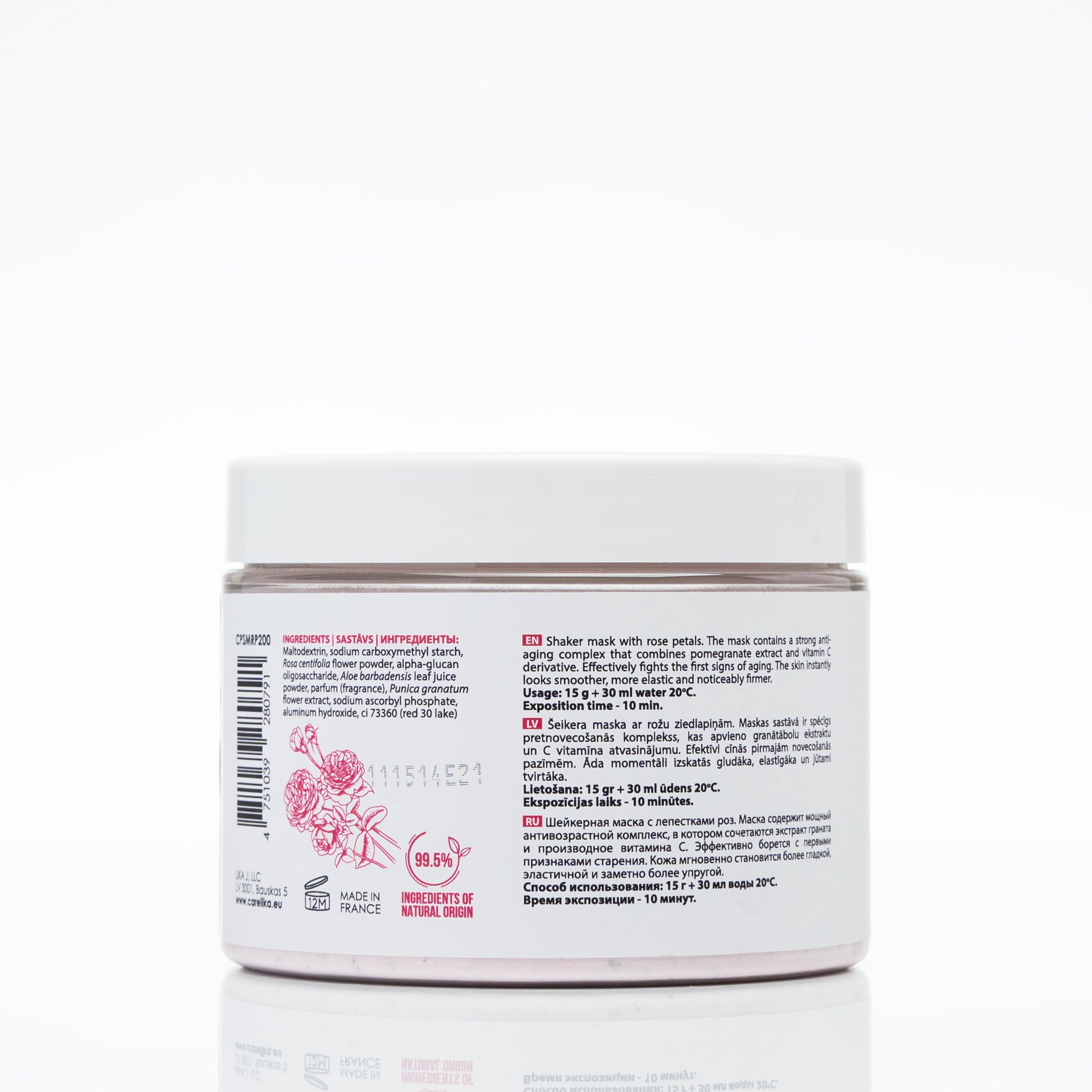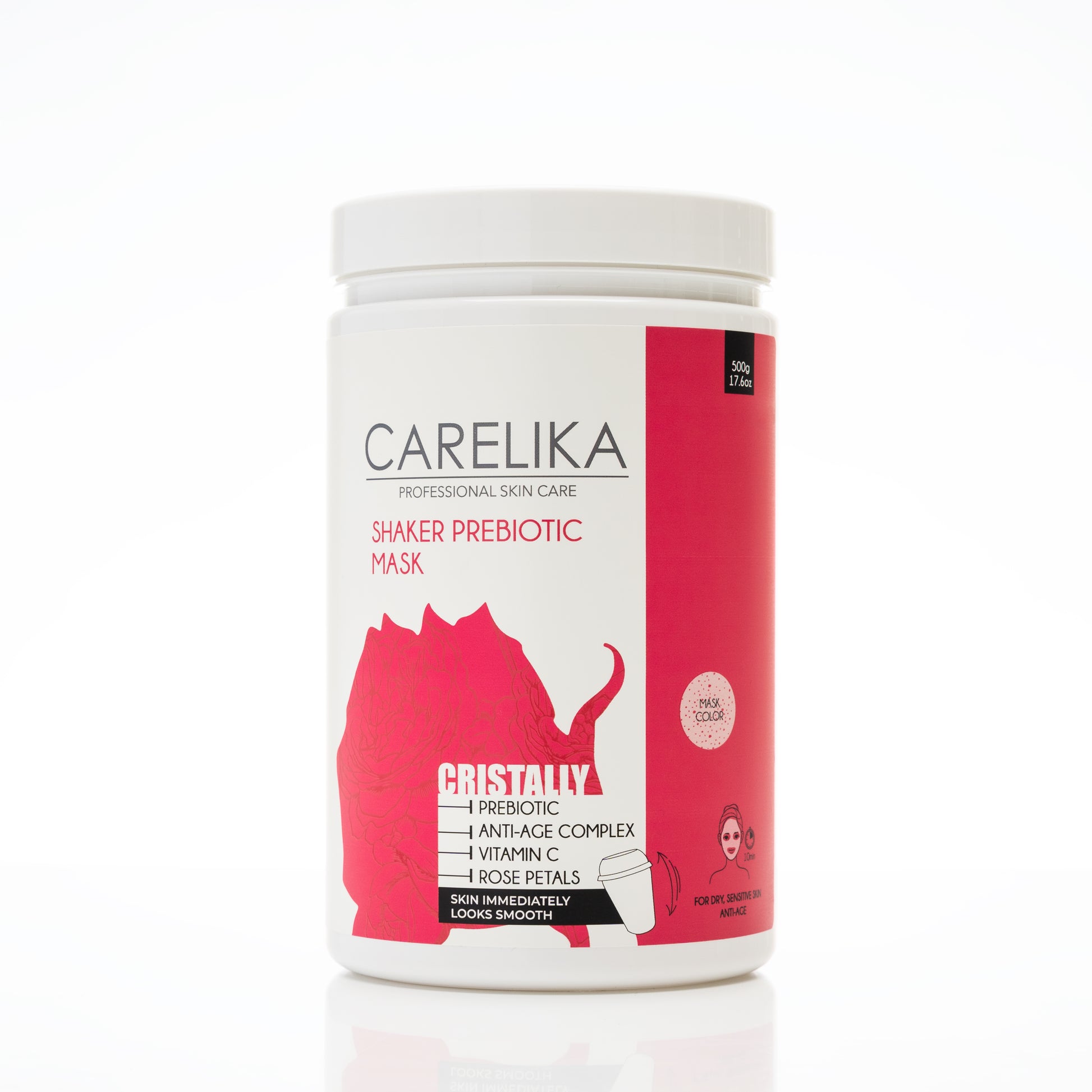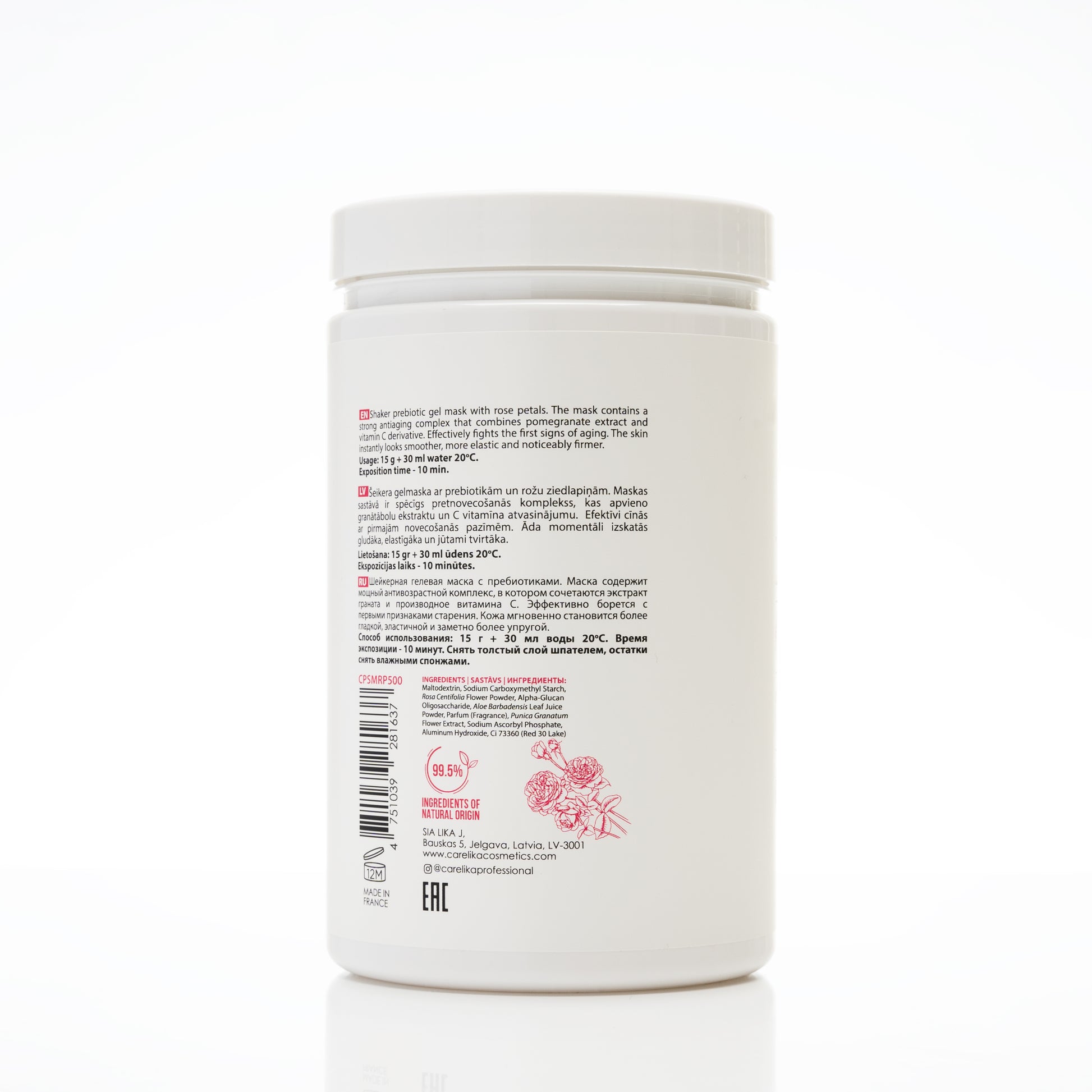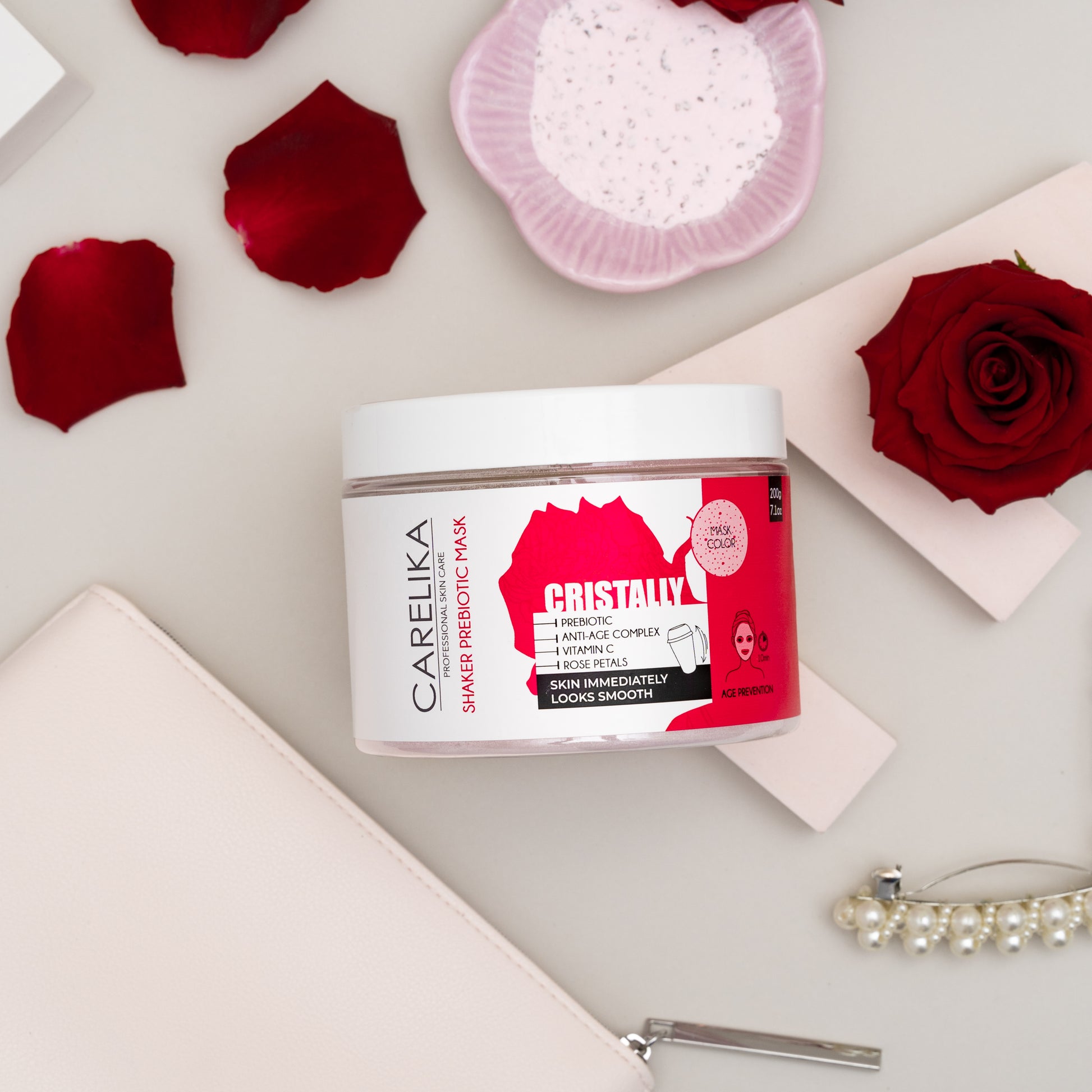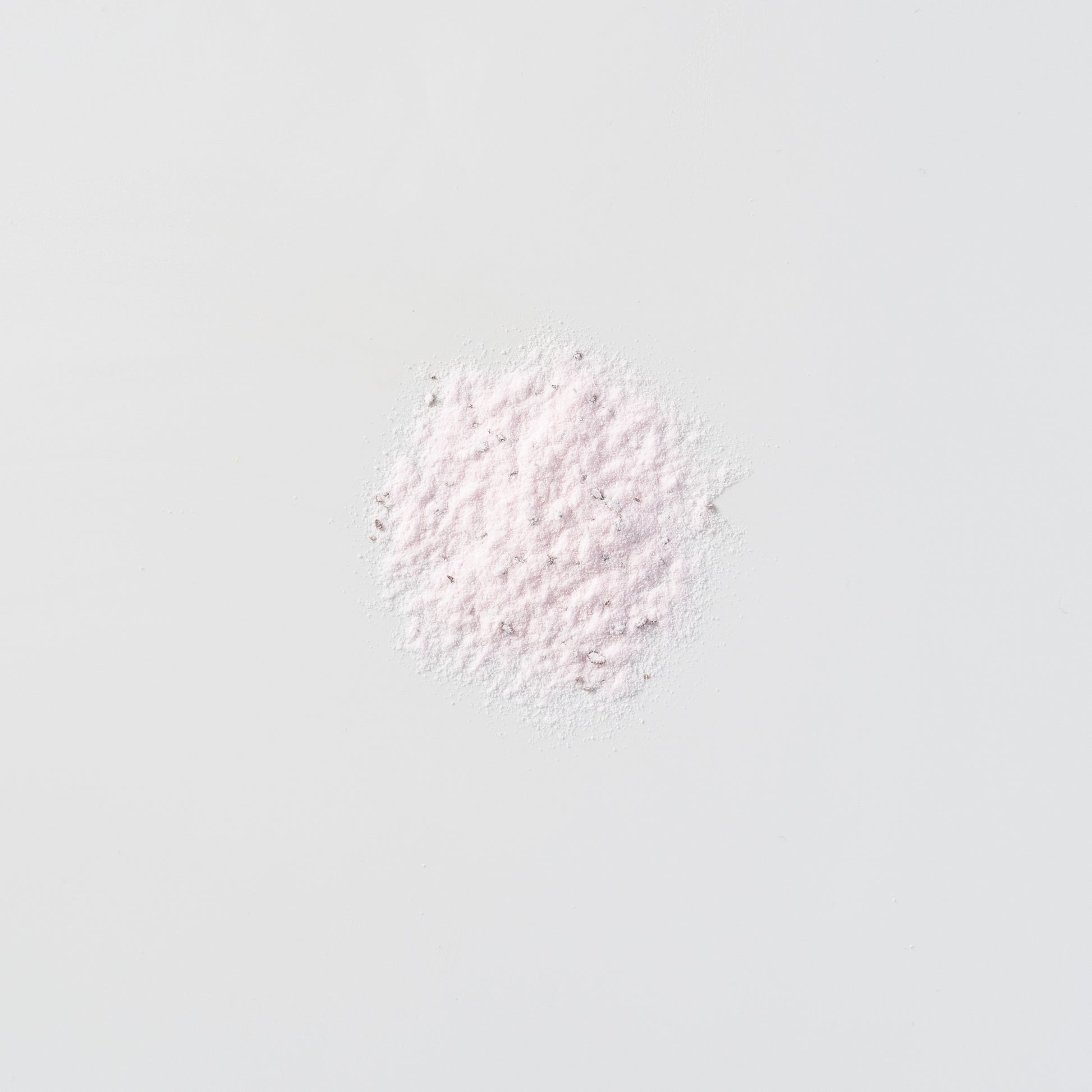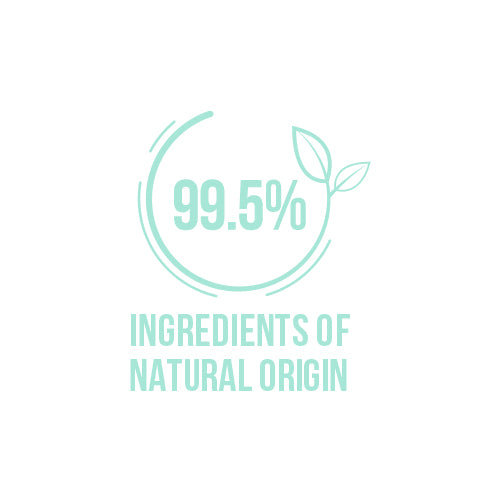 Shaker Prebiotic Cristally Mask Rose Petals Professional
What is it?
Don't you think, products that have the goodness of natural ingredients in them are more suitable for your beauty rituals? CARELIKA understands this and therefore brings to you a Shaker Cristally Mask loaded with Rose Petals that fights off thin lines. It is a perfect combination of rose petals and an antiaging complex that combine pomegranate extract with vitamin C which instantly gives softer and firmer skin. The shaker mask is a uniquely crafted transparent formulation with the goodness of rose petals embedded into it that gently exfoliates and polishes, helps in unclogging pores, and promotes elasticity, firmness, and cell renewal. Together with natural sugars and aloe, it balances your skin's natural flora to build a strong barrier and defense.
What does it do?
Strengthens elasticity for anti-ageing effect

Reduces the appearance of fine lines.

Removes scars, freckles, and dark spots.

Reduces pore size.

Reduces redness and inflammation.

Makes your skin appear more firmer and young.

Restores natural microflora and improves skin defense.

How to use it?
Ingredients
In a shaker take 30 ml water and mix around 15 g of mask powder in it.

Shake for 5-10 seconds till it becomes a smooth and uniform paste.
Apply the paste on the face using a brush.
Leave it on your face for 10 minutes.
Remove the mask with a spatula.

Using a moist microfibre towel wipe out the remaining particles of the mask.
Apply your favorite serum for a more soothing effect.
Maltodextrin, sodium carboxymethyl starch, rosa centifolia flower powder, alpha-glucan oligosaccharide, aloe barbadensis leaf juice powder, parfum (fragrance), punica granatum flower extract, sodium ascorbyl phosphate, aluminum hydroxide, ci 73360 (red 30 lake)
It's the inside that matters!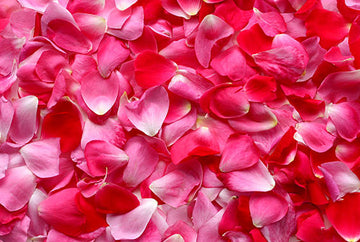 Rose petals
Loaded with anti-inflammatory and antibacterial actives, rose petals reduce swelling and redness on the skin. Provides moisturizing and toning and is a natural astringent that helps to reduce pores and restore skin elasticity. Its calming fragrance soothes and revitalizes your skin to reveal a rosy pink glow!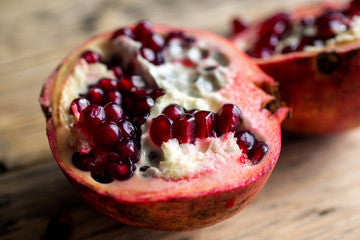 Pomegranate-vitamin C anti-ageing complex
Pomegranate, a powerful antioxidant helps faster recovery from thedamage caused by environmental pollution. Its flavonoids help to tackle pigmentation issues to give you a uniform and brighter tone and freedom from freckles. It also restores the skin's natural smoothness, reduces pore size, and strengthens elasticity.

It is combined with vitamin C, a strong antioxidant that tones and strengthens the skin brilliantly! It promotes collagen synthesis for reducing wrinkles and also has deeply hydrating properties to replenish water content. Being a free radical scavenger, vitamin C limits the damage caused by UV radiation exposure and protects against ageing caused by UV induced free radicals.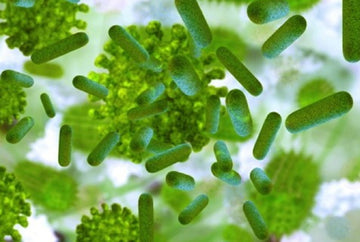 Bioecolia + Aloe vera
Bioecolia is an oligosaccharide obtained from natural sugars (sucrose and maltose). It restores and maintains a balanced skin microflora by selectively promoting the growth of useful bacteriaand suppressing acne causing harmful bacteria. Thus, it improves the skin's natural immunity and defense and keeps you protected.

It is combined with Aloe vera best known for its skin healing properties, Aloe deeply moisturizes, soothes, and makes skin soft. Its anti-inflammatory action effectively calms down irritation and inflammation. It not only increases collagen synthesis but also increases collagen crosslinking thus accelerating the repair. It reduces the production and release of keratinocyte derived inflammatory cytokines like interleukin-10 (IL-10) and prevents radiation-induced damage. Rich in antioxidants, vitamins, amino acids, and enzymes, Aloe is a boon to your skin.