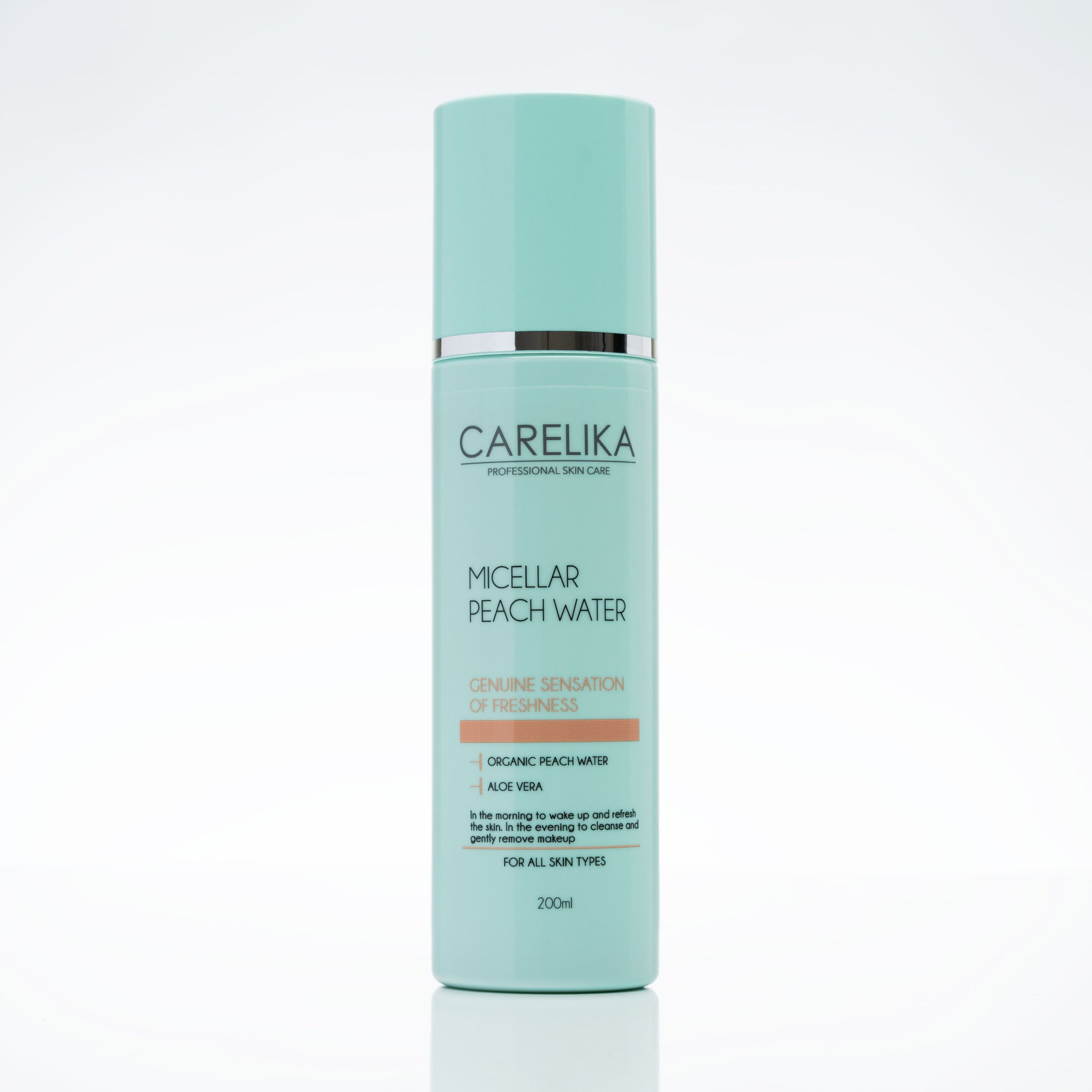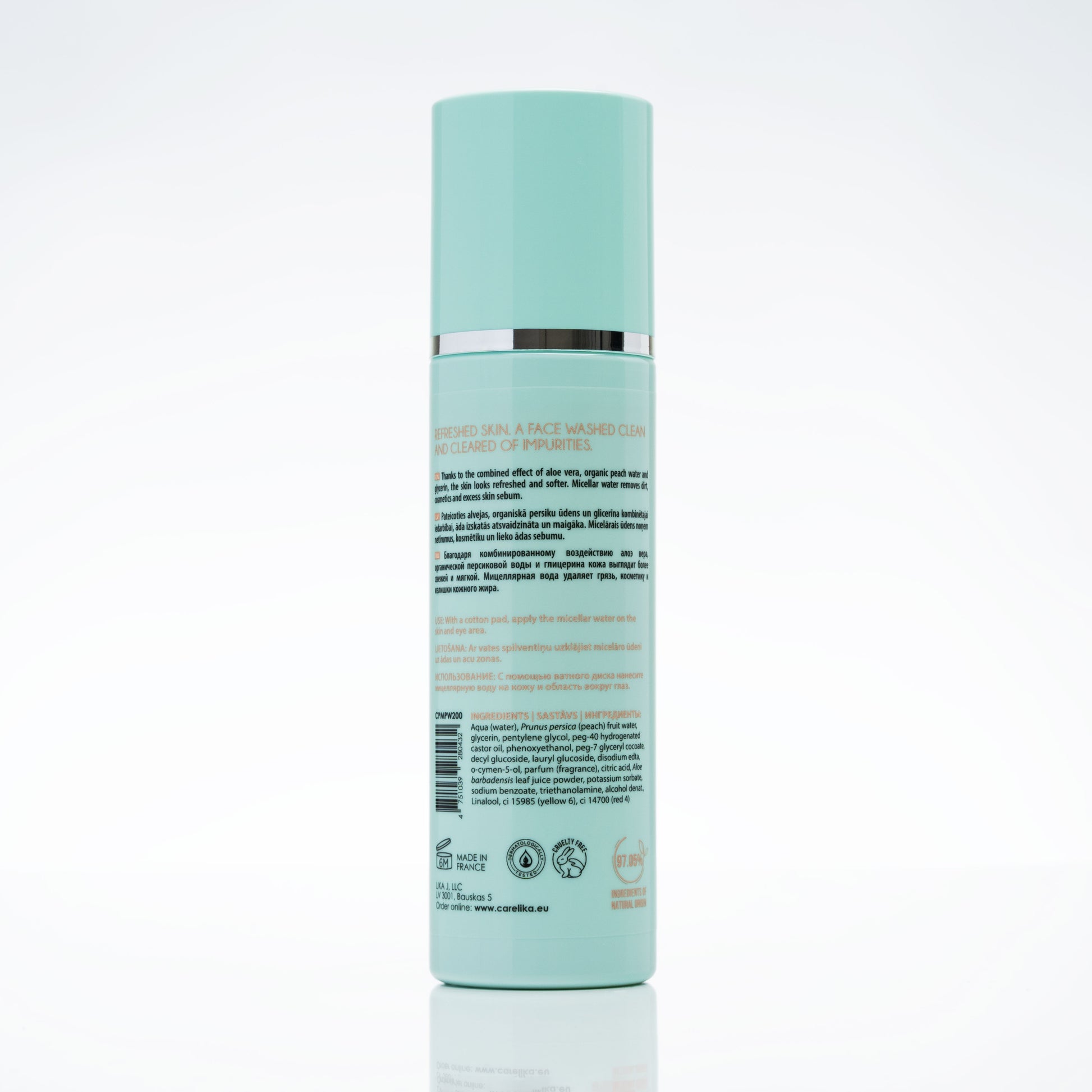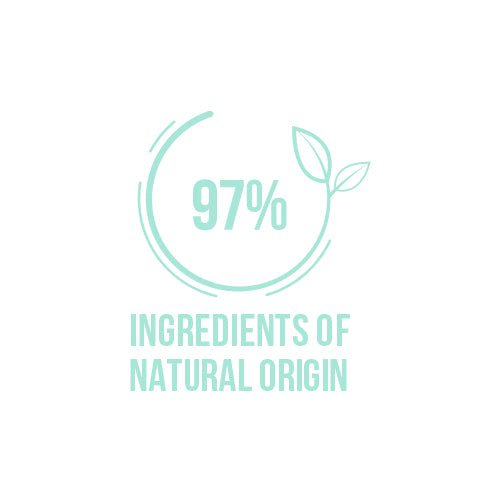 What is it?
CARELIKA Micellar Peach Water is a carefully crafted innovative cleanser. It is in the form of structured water that has small spherical, crystalline microscopic micelles formed with the help of essential fatty acids. These micelles envelop the remains of stubborn oil, grease, dirt, and makeup and remove them from your face. Peach micellar water cleanses without drying your skin thus you get a genuine sensation of freshness. Enriched with aloe and glycerin, it gently provides moisture to get a supple and plump effect.
Antioxidant-rich peach water and other protective ingredients offer excellent cleansing properties and soften the skin at the same time.
What does it do?
Removes makeup, dirt, and grease

Gently hydrate and softens

Perfect for dark circles

Removes blemishes

Has an antioxidant and anti-aging effect.

Suitable for sensitive and acne-prone skin

Has anti-inflammatory and emollient actions

How to use it?
Ingredients
Shipping & Return
Simply soak a cotton pad with some micellar water.
Gently swipe the cotton pad across your face to take off all impurities.
Rinse with plain water if required and apply your favorite serum.
You may not need to rinse your face if you have completely cleaned it with the micellar water.
Use it at least twice a day.
Enjoy the genuine freshness!
Aqua (water), aloe barbadensis leaf juice, pentylene glycol, sodium citrate, gluconolactone, caprylyl/capryl glucoside, decyl glucoside, acacia senegal gum, xanthan gum, lauryl glucoside, citric acid, sodium benzoate, polyglyceryl-10 isostearate, parfum (fragrance), sodium phytate, sodium dilauramidoglutamide lysine, calcium gluconate, linalool, phragmites communis extract, poria cocos extract, geraniol, citronellol
It's the inside that matters!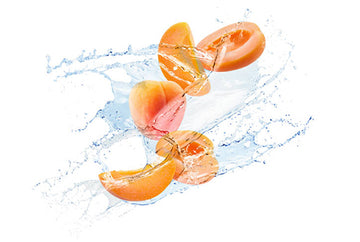 Organic Peach Water
Peach, botanically known as Prunus persica, contains vitamins A, C, and E and many vital minerals. It is also rich in antioxidant flavonoids whose free radical scavenging effect imparts antiaging properties. Its extract formulated into organic micellar water is a novel technology that combines the benefits of peach and facilitates deep cleansing owing to the micellar structures. It does not remove natural oil from the skin so your will not feel dry and itchy.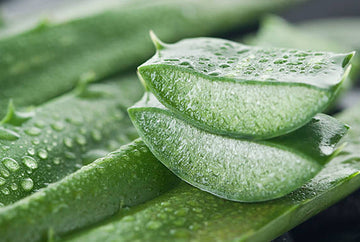 Aloe vera
Best known for its skin healing properties, Aloe vera is commonly used in several cosmetic formulations. It moisturizes, soothes, reduces irritation, and makes skin soft. It effectively calms down irritation and inflammation. It not only increases collagen synthesis but also increases collagen crosslinking thus accelerating repair. It reduces the production and release of skin keratinocyte-derived inflammatory cytokines like interleukin-1 (IL-10) and hence prevents UV radiation-induced damage. Rich in antioxidants, vitamins, and enzymes, Aloe is a boon to skin care.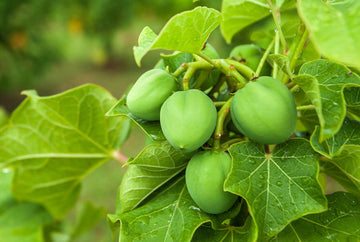 Glycerin
Glycerin has emollient properties that promote a youthful and healthy glow. It moisturizes the skin, relieves dryness, and refreshes its surface. It improves the skin's elastic properties thus delaying the ageing signs. Being a natural humectant, it restores the skin's protective epidermal barrier functions. Glycerin never clogs your skin pores; thus it is a perfect cosmetic ingredient for everyone.