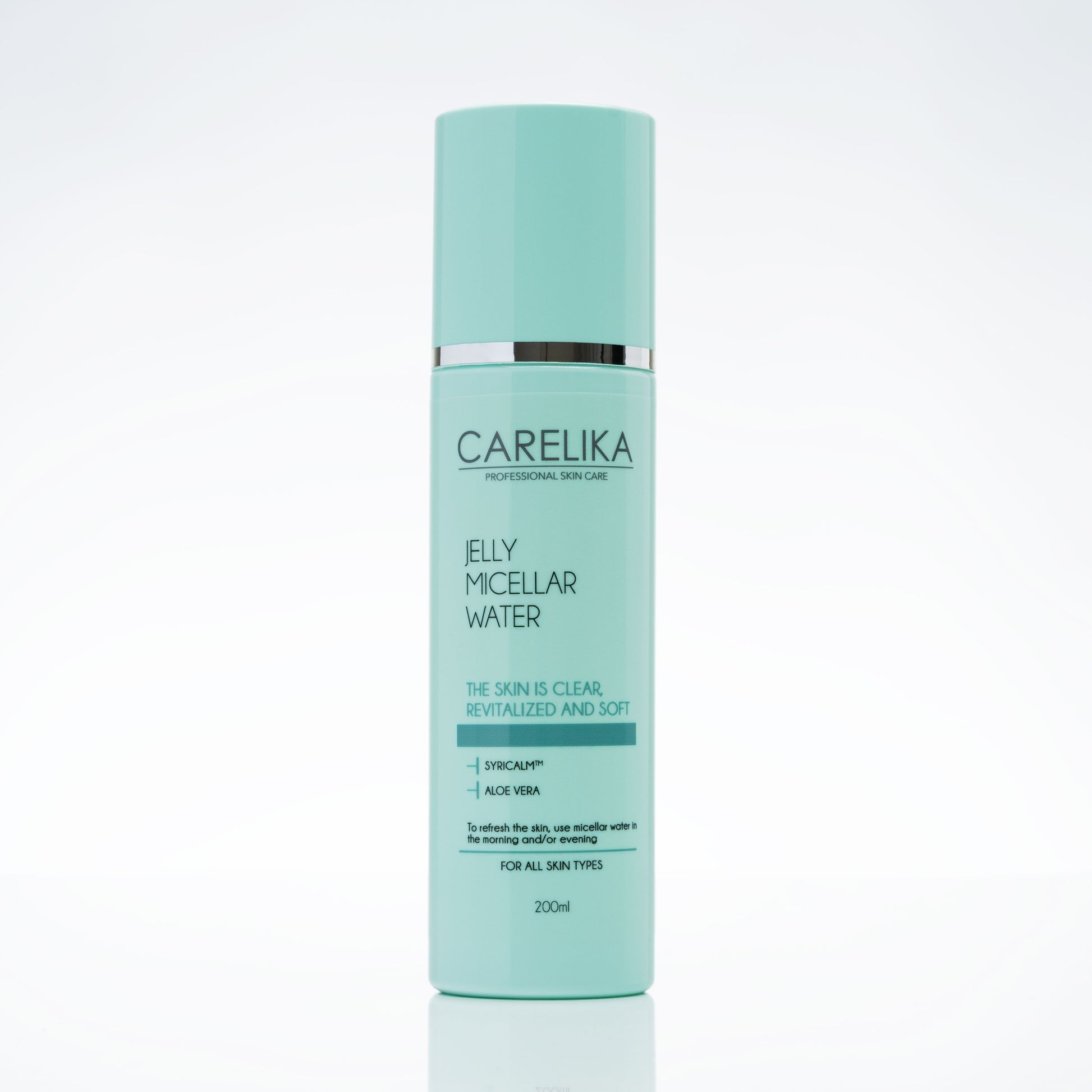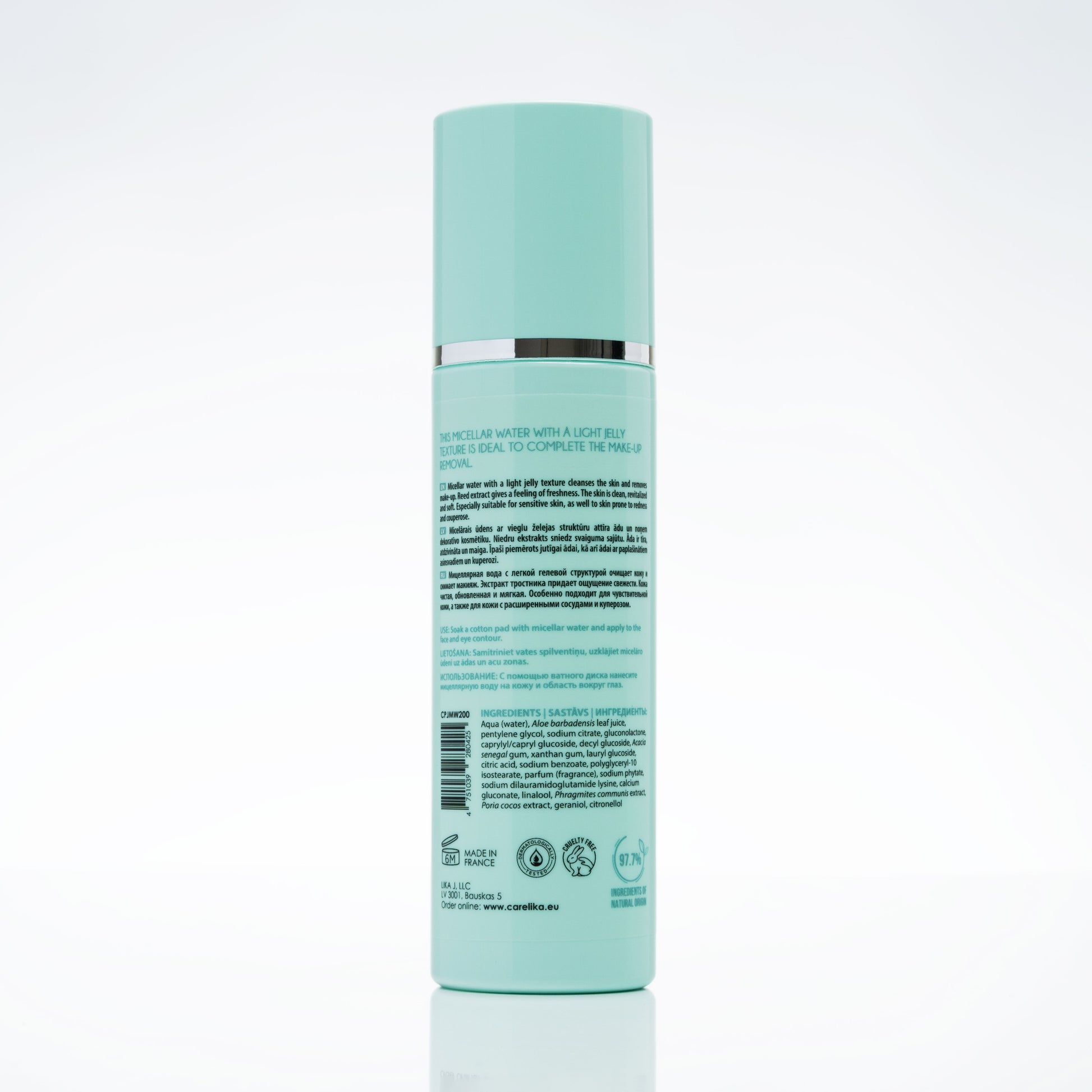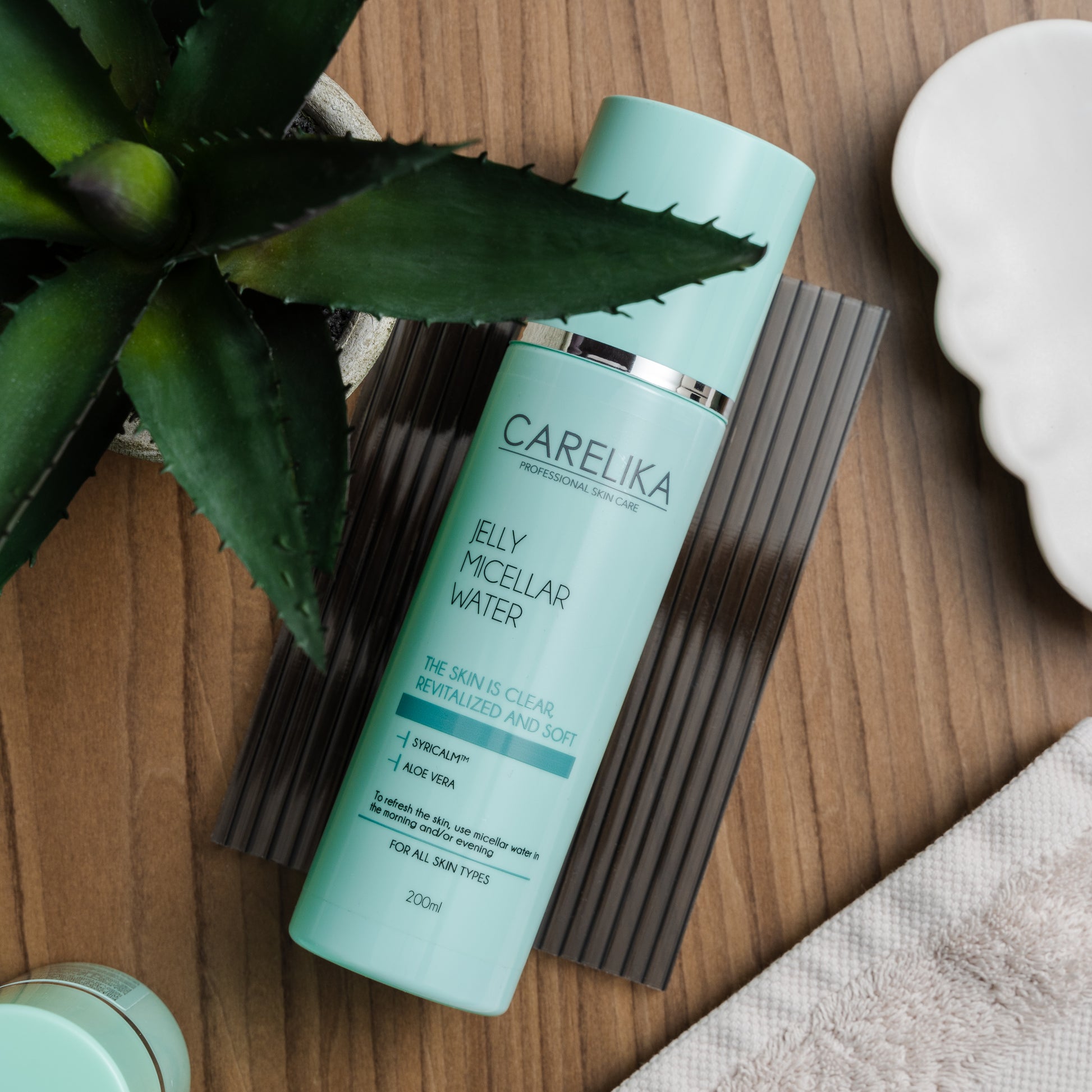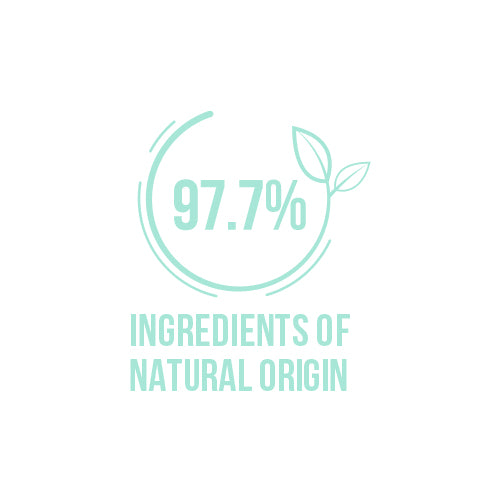 What is it?
As you indulge in cleansing your skin- the first step of the beauty ritual, you will get the best results with CARELIKA Jelly Micellar Water with Aloe. The uniqueness is its micellar structure with a light gel-like consistency. It makes the cleansing process extremely easier, as it removes makeup from your face and neck.
It suits all, including acne-prone, sensitive, and rosacea skin. It gives you a fresh, revitalized, and soft feel because of the goodness of reed extract. CARELIKA Jelly Micellar Water with Aloe is a gel cleanser that helps in cleansing and soothing. SyriCalm™, a unique ingredient that goes into the formulation combined with the goodness of aloe gives the best results.


What does it do?
Cleans and protects

Removes makeup ad dirt

Revitalizes and gives a fresh feeling

Restores the natural balance of oil and moisture

Soothes irritation arising from environmental stress

Reduces redness and is therefore suitable for acne-prone sensitive and couperose skin

How to use it?
Ingredients
Simply soak a cotton pad with some micellar water.
Gently swipe the cotton pad across your face to take off all impurities.
Rinse with plain water if required and apply your favorite serum.
You may not need to rinse your face if you have completely cleaned it with the micellar water.
Use it at least twice a day.
Aqua (water), aloe barbadensis leaf juice, pentylene glycol, sodium citrate, gluconolactone, caprylyl/capryl glucoside, decyl glucoside, acacia senegal gum, xanthan gum, lauryl glucoside, citric acid, sodium benzoate, polyglyceryl-10 isostearate, parfum (fragrance), sodium phytate, sodium dilauramidoglutamide lysine, calcium gluconate, linalool, phragmites communis extract, poria cocos extract, geraniol, citronellol
It's the inside that matters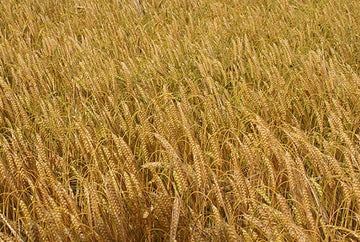 SyriCalm™
This soothing natural ingredient is derived from Phragmites
communis extract and Poria cocos extract. It has anti-inflammatory properties, thus it protects from external stresses such as shaving, depilation, or other environmental stresses that challenge your skin. It restores the skin's natural moisture balance and strengthens your skin is best for maintaining daily hygiene. It reduces the redness and therefore it is best suitable for daily use.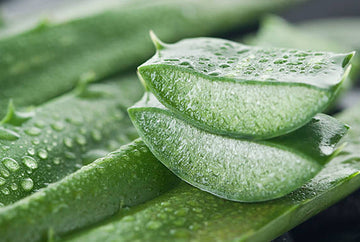 Aloe vera
Best known for its skin healing properties, Aloe vera is
commonly used in several cosmetic formulations. It moisturizes, soothes, reduces irritation, and makes skin soft. It effectively calms down irritation and inflammation. It not only increases collagen synthesis but also increases collagen crosslinking thus accelerating repair. It reduces the production and release of skin keratinocyte-derived inflammatory cytokines like interleukin-1 (IL-10) and hence prevents UV radiation-induced damage. Rich in antioxidants, vitamins, and enzymes, Aloe is a boon to skin care.