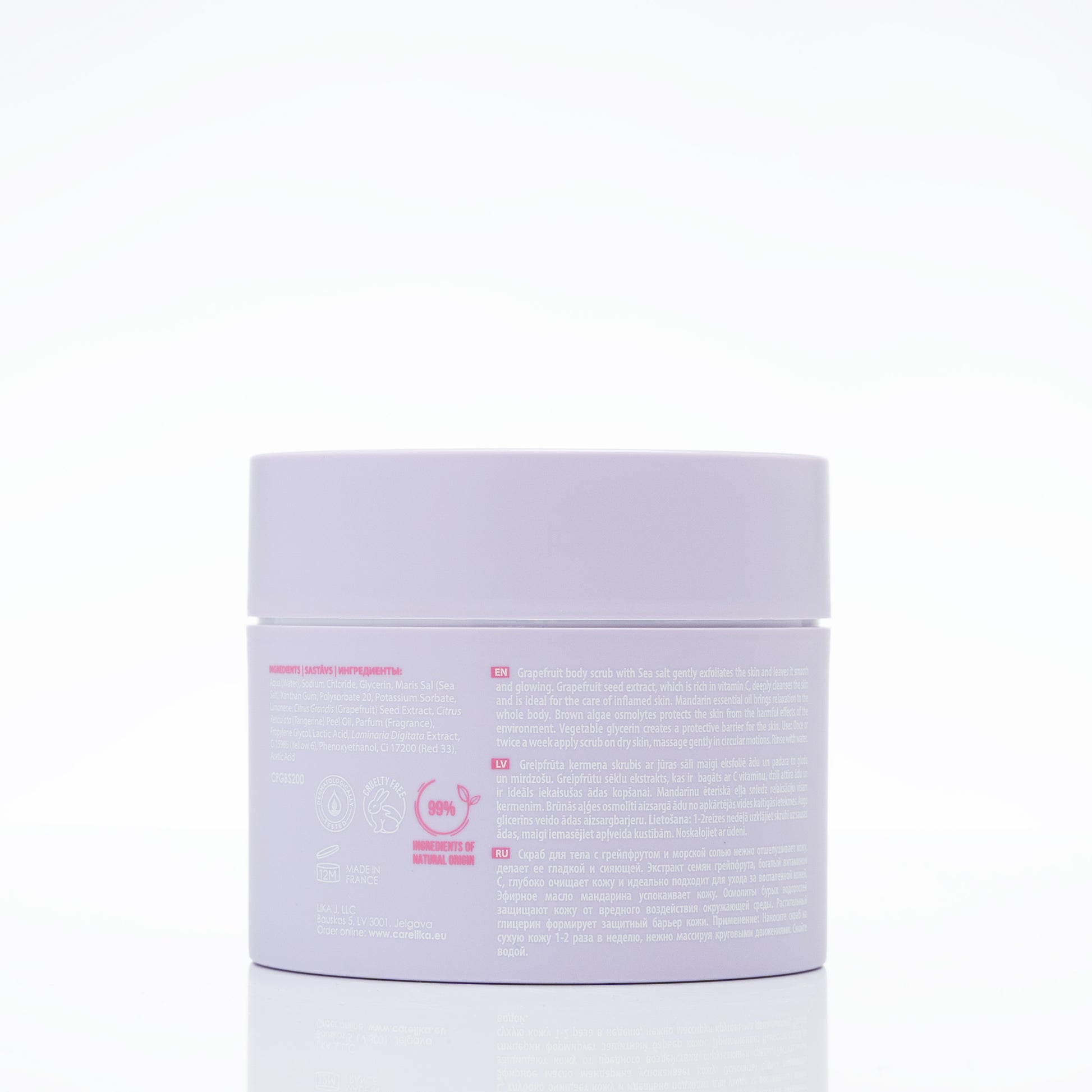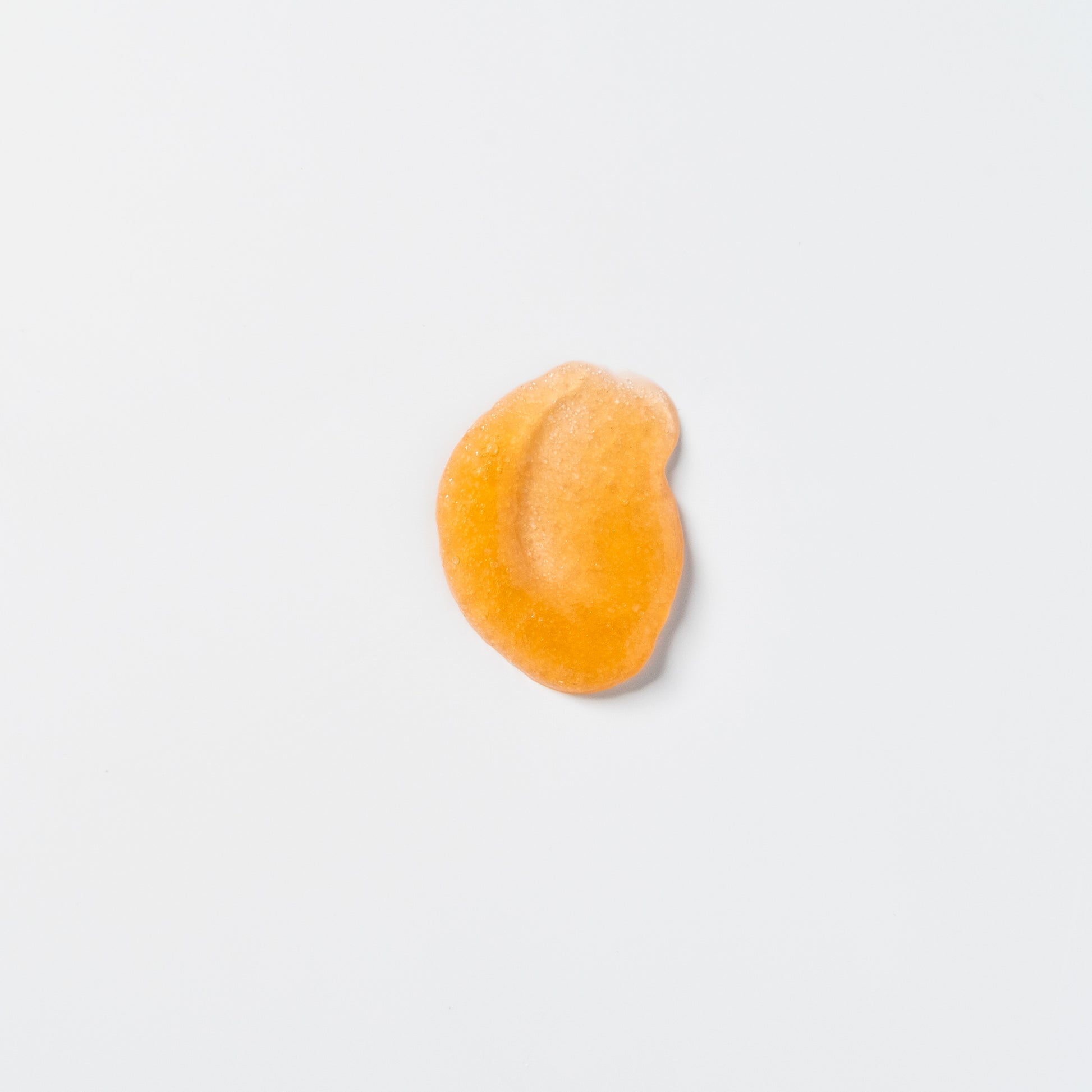 What is it?
CARELIKA Exotic body scrub is a citrus overload that gives you a refreshing and invigorating feeling. Full of grapefruit seed extract, this scrub is a gentle exfoliator as it delicately works on your body to remove dead cells and a tanned layer that makes the skin dull. The fresh citrus fragrance will energize you and elevate your mood.
All full of vitamin C, the grapefruit seed extract removes blemishes and pigmentation marks and gently cleanses the clogged pores so that your skin breathes easily giving you a refreshing feeling. The marine salts help to remove impurities, while the seaweed osmolyte restores the hydration balance in every cell by preventing water loss. It thoroughly moisturizes and energizes giving a soft supple feel and glossy complexion. Enriched with mandarin oil and plant glycerin the scrub protects the skin from getting dry and enhances the natural moisture in the body.
Get the scrub now and enjoy the ultimate spa-like polishing treatment for unrivaled smoothness and dazzling radiance with multiple benefits of all the natural ingredients!

What does it do?
Gently exfoliates, intensively hydrates, and repairs the dermal barrier

Helps removes suntan from the body

Gives a refreshing fragrance and feel to the body

Maintains moisture balance and keeps your skin soft and silky

Deeply penetrates, detoxifies, and re-energizes the skin leaving it gleaming and glossy

How to use it?
Ingredients
Make this scrub a part of your beauty ritual once or twice a week. For the best results use it as follows:
Apply the scrub to the dry parts of the body or the whole body.
Massage it thoroughly with a circular motion.
Use a steamed towel to help oils and other ingredients soak into the skin.
Rinse off with water.
Aqua (water), glycerin, silica, phenoxyethanol, mica, sodium polyacrylate, vitis vinifera (grape) fruit extract, acrylates/ c10-30 alkyl acrylate crosspolymer, triethanolamine, ppg26-buteth-26, ci 77891 (titanium dioxide), caprylyl glycol, peg-40 hydrogenated castor oil, chlorphenesin, parfum (fragrance), ci 77491 (iron oxides), caviar extract, benzyl alcohol, citric acid, potassium sorbate, sodium benzoate, dehydroacetic acid
It's the inside that matters!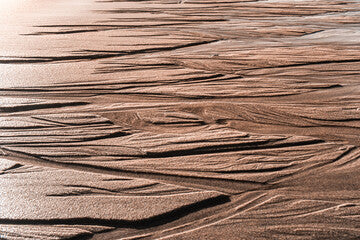 Marine salts
Sea salts in body massage help reduce stress, exfoliate and revitalize the skin while also increasing metabolism and blood circulation. Countless minerals like Sodium, Calcium, Potassium, Magnesium, Zinc, and many more nourish and boost cellular activity which reinvigorates the body. High mineral content and several trace elements exert anti inflammatory actions which soothe and relax the skin while revitalizing the skin and hair.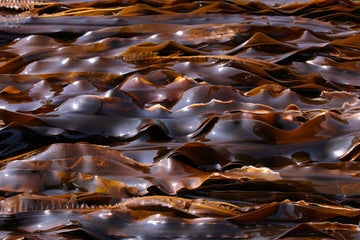 Brown seaweed osmolytes
The brown seaweed osmolytes from Laminaria digitalis have a natural way of restoring water balance in living cells and stoppin g epidermal water loss. Moreover, seaweed extracts are rich in essential amino acids, vitamins, and trace elements. Thus, it nourishes your skin with micronutrients, rejuvenates it by preventing the denaturation of proteins, and provides anti-aging benefits.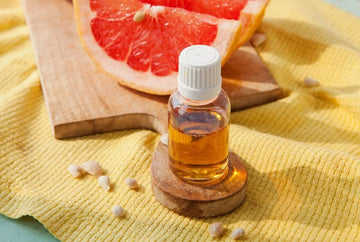 Grapefruit seeds extract
It is a natural purifying ingredient that helps reduce sebum secretion and thus reduce greasiness. Rich in vital ingredients like flavonoids, vitamins, sterols, and limonoids, grapefruit seeds extract protects your skin from damaging free radicals and thus prevents premature ageing.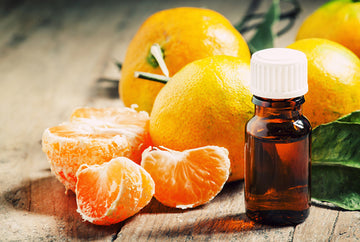 Essential mandarin oil
Well known for its soothing properties, essential Mandarin oil maintains moisture balance. Rich in limonene and gamma-terpinene, this oil has anti-stretch marks properties that provide an even skin tone. The refreshing sweet fruity aroma calms your mind to give you a spa-like relaxing effect.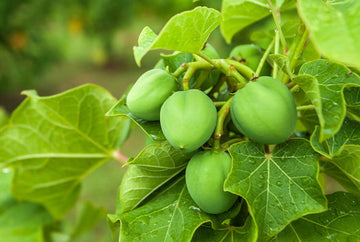 Plant glycerin
Glycerin has emollient properties that promote a youthful and healthy glow. It moisturizes the skin, relieves dryness, and refreshes the surface. It improves the skin's elastic properties thus delaying the ageing signs. Being a natural humectant, it restores the skin's protective epidermal barrier functions. Glycerin never clogs your skin pores!