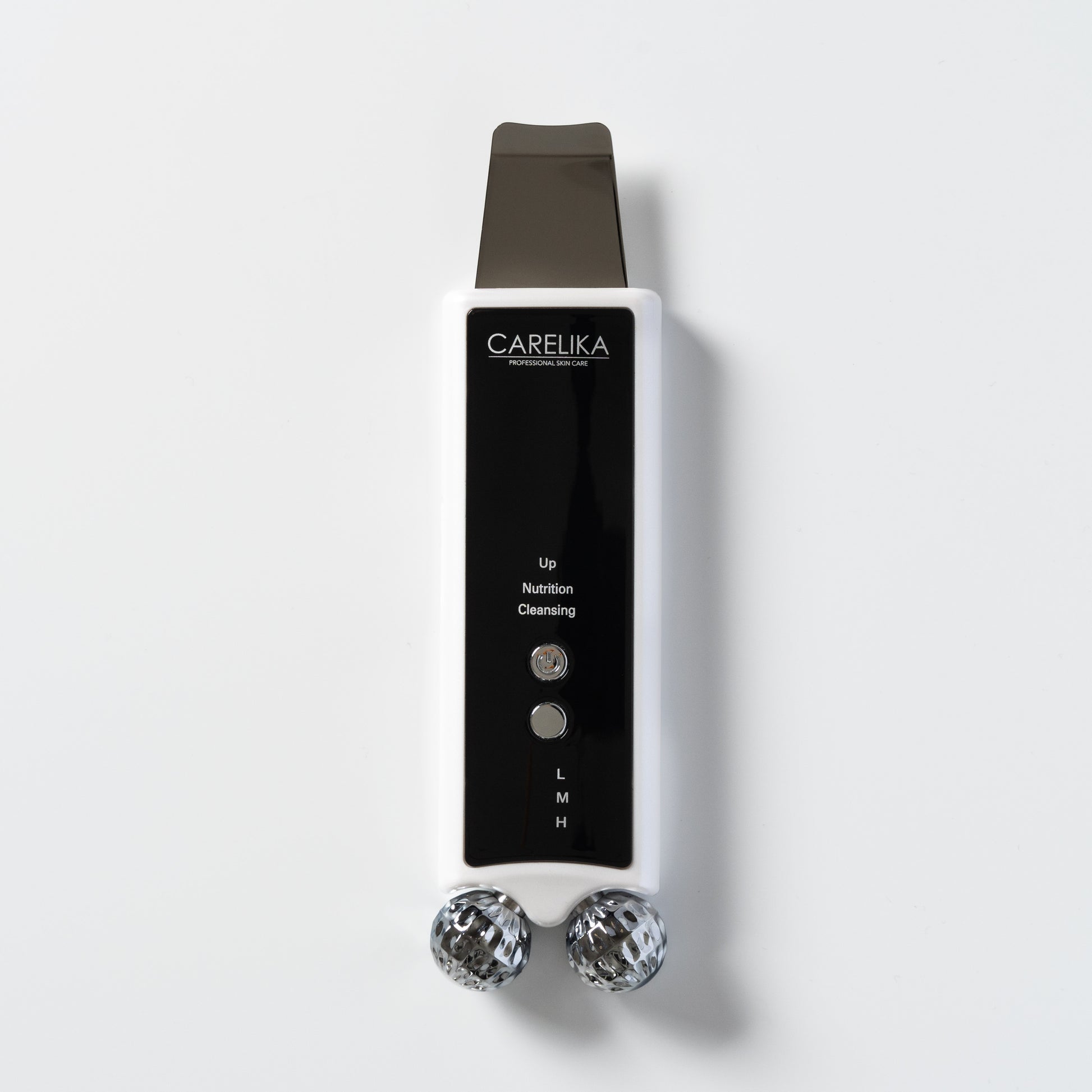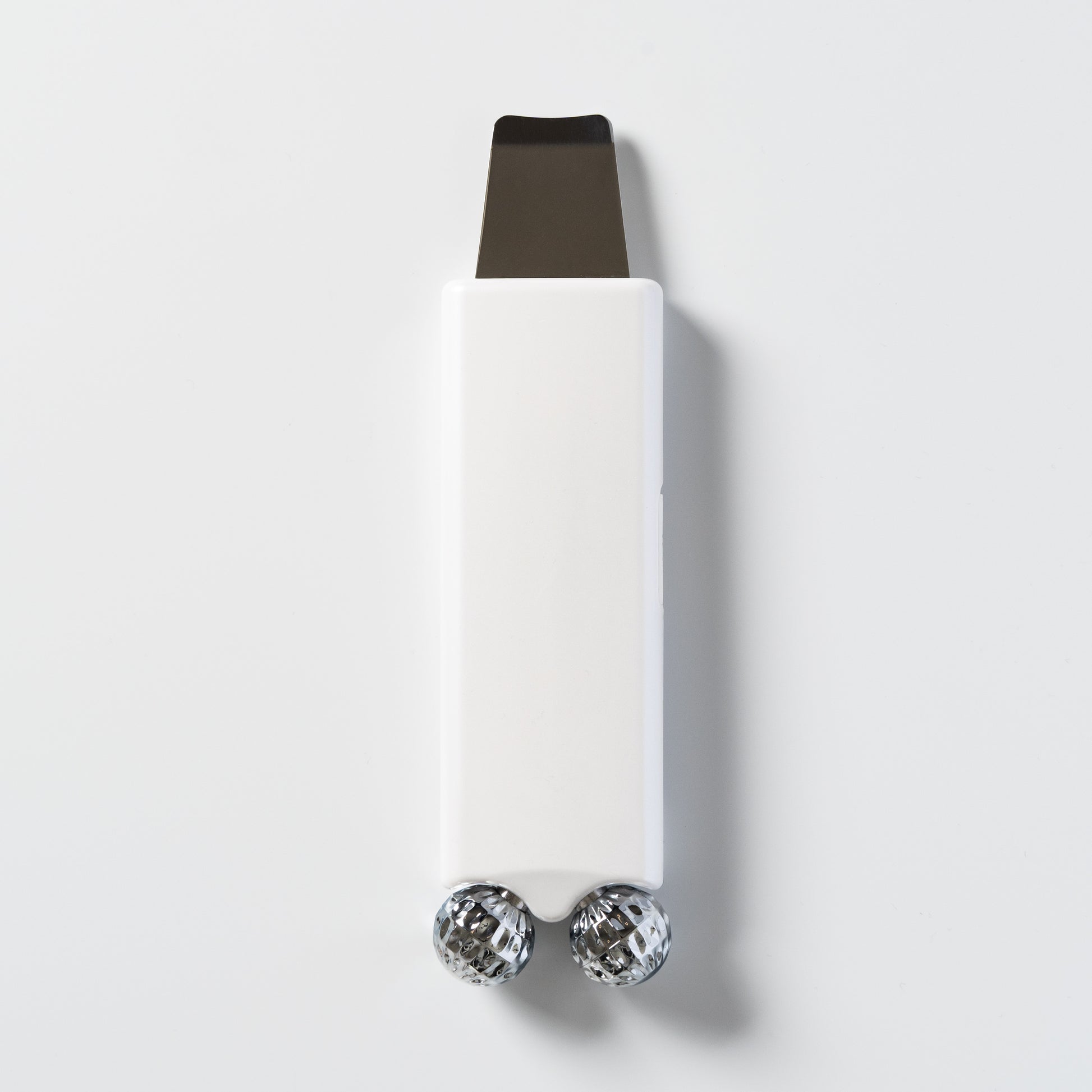 Double Roller and Ultrasonic Skin Scrubber
What is it?
CARELIKA Double roller and ultrasonic skin scrubber have the dual advantage of uplifting your skin by cleansing and working on your muscles. The ultrasonic scrubber produces micro energy that deeply penetrates your skin layers reaching for the blackheads to ease their removal. Its lead-in function facilitates the entry of moisturizer into the skin by widening the pores. Ultrasonic waves also accelerate the metabolism of the skin thus giving a smooth and more youthful complexion.

The EMS current helps improve muscle elasticity. The premium quality silicone makes the roller skin-friendly. Equipped with a small facial cleaning brush it offers a thorough cleansing experience.
How to use it?
Benefits of Double Roller and Ultrasonic Skin Scrubber
How to use it?
Before using the device, charge it completely. It takes around 1.5 hours to charge. Use the ON/OFF switch to turn on the device and the EMS switch to turn on the EMS function.

Ultrasonic skin scrubber:
Use the scrubber as recommended below:
Facial cleansing:
Hold the device in your hand and remove the silicone cover of the scrubber.
With the ultrasonic vibration clean your face by bringing the device in contact with your skin.
Skin cleansing:
Remove the silicone cover and turn on the device (default cleaning mode).
Hold the ultrasonic scrubber at 45° against the skin, pushing it upward.
Adjust the mode according to your skin condition.
Skincare:
Press the switch twice to shift to "Nutrition" mode.
Let the scrubber touch your face to massage it.
Use a cream or serum for nutrition to get better absorption function.
Use the EMS Skin lifting dual roller as follows:
For body: Roll vertically on your body.
For the face: Put the roller on your face, and roll the device from the chin towards the cheek to lift facial skin.
For the forehead: Roll it gently up and down and right and left.
For eyes: Roll gently around the eyes.
For neck: Roll gently up and down the neck.
For waist: Roll up and down and along the waistline
After using the device, use a nourishing cream for better results.
This easy-to-use double roller with ultrasonic scrubber removes deep-seated blackheads and acne. The different operation settings on the device make it easy to use the device for cleaning the skin and massaging it. When combined with the vibration massage mode it helps easy penetration of moisturizers or serums through the pores. Moreover, the microcurrent dual roller helps to firm your V-line. The EMS current enhances muscle elasticity making them move freely. The rolling action provides deep massage so that the cells are boosted to produce more collagen giving you a rejuvenated feeling!

No need for salon appointments! The compact device is so easy to carry that you can now have massage and cleaning sessions just by yourself wherever you go.
Here are the benefits you may enjoy with this roller massager:

Provides deep cleansing
Removes blackheads and acne
Firms the V-line
Improves muscle elasticity
Boosts collagen production
Rejuvenates your complexion
Gives an uplifting effect
Helps the absorption of moisturiser at deeper levels