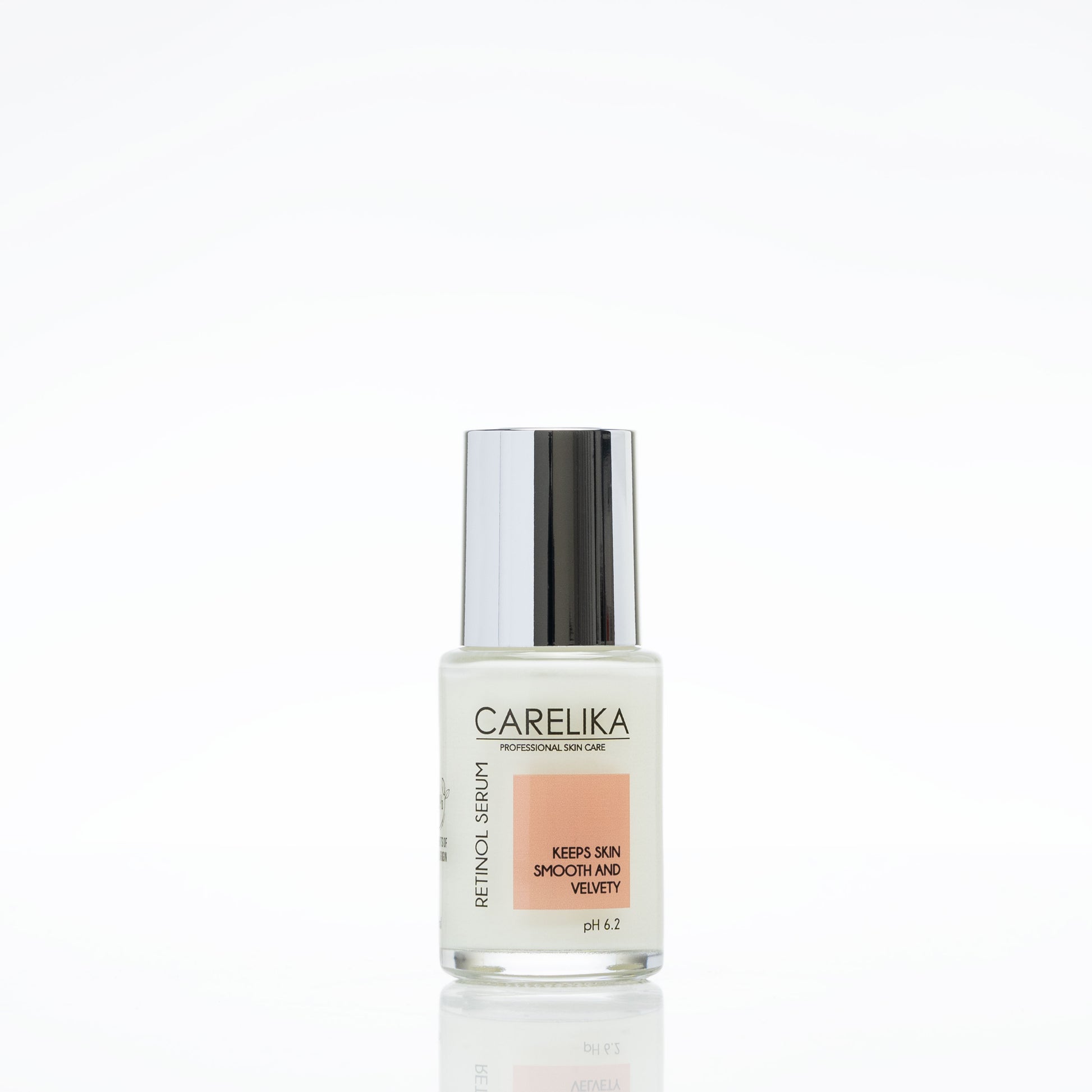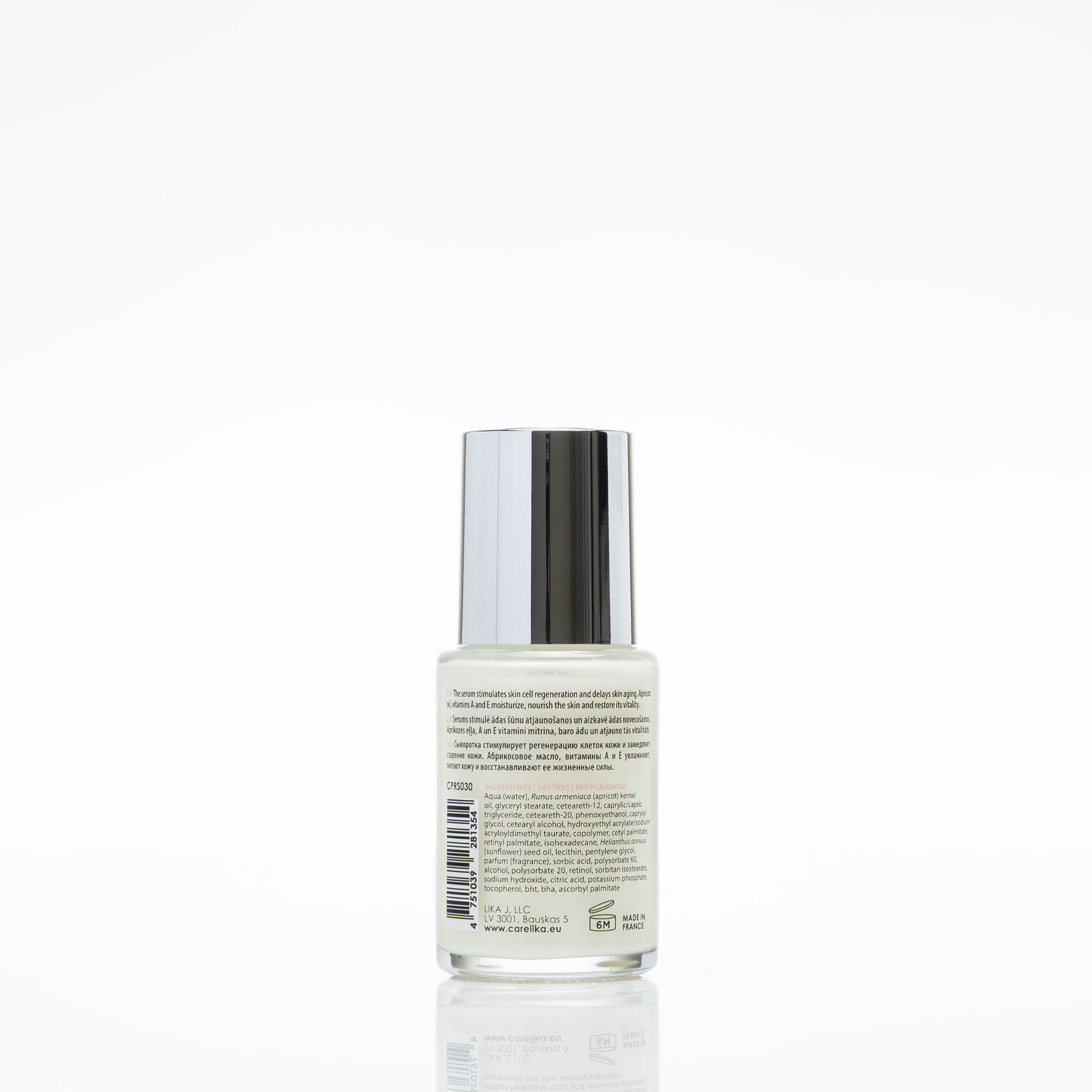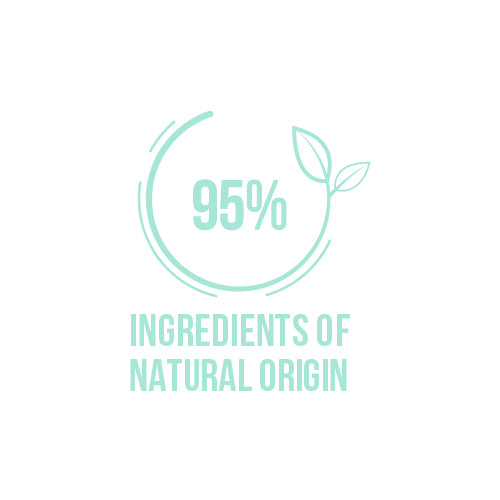 Retinol Serum Professional
What is it?
CARELIKA Retinol Serum with Apricot oil is a great pick-me-up to age gracefully. Powered with Retinol this serum targets fine lines and hyperpigmentation to restore smoothness and brighter tone. that gives you a soft, velvety face with no ageing signs. The serum refines your texture and gives you a youthful look. Moreover, retinol effectively renews the cells, supports healthy cell turnover, and reduces all the signs of ageing. Apricot oil works together with retinol to smoothen and nourish. Retinyl palmitate further empowers the anti-ageing fight.
The carefully formulated serum releases these magic ingredients to deeply function day and night on the skin. During daytime use, it fights stress-induced damage and reduces ageing. While at night it continues its repair work giving you a revitalized look.
Fall in love with the new you as you look young and rejuvenated!
What does it do?
Makes the complexion smooth and velvety

Promotes a healthy cell turnover and reduces acne

Improves skin firmness and fights wrinkles. 

Helps smooth fine lines and texture

Brightens and evens skin tone.
Smooth fine lines and noticeably improve the texture

Renews the surface cells and gives a younger look.

How to use it?
Ingredients
Use serum as a daily beauty ritual in the morning and/or evening for the best results.  
Cleanse your face and neck thoroughly with a cleanser.
Pat dry with a soft towel.
Place 3-4 drops of serum directly on your face.
Gently massage the serum on your face and neck using your fingertips till it gets absorbed.  
For more benefits use a dual contouring massage roller or 6D lift and tone germanium massage roller.
Do not rinse off.
Follow up with your favorite moisturizing cream. 
Aqua (water), runus armeniaca (apricot) kernel oil, glyceryl stearate, ceteareth-12, caprylic/capric triglyceride, ceteareth-20, phenoxyethanol, caprylyl glycol, cetearyl alcohol, hydroxyethyl acrylate/sodium acryloydimethyl taurate, copolymer, cetyl palmitate, retinyl palmitate, isohexadecane, helianthus annuus (sunflower) seed oil, lecithin, pentylene glycol, parfum (fragnance), sorbic acid, polysorbate 60, alcohol, polysorbate 20, retinol, sorbitan isostearate, sodium hydroxide, citric acid, potassium phosphate, tocopherol, bht, bha, ascorbyl palmitate
It's the inside that matters!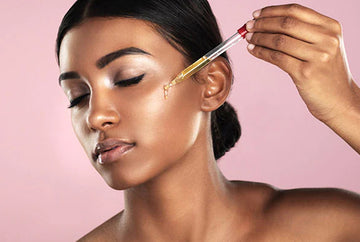 Retinol
Known as the purest and the most active form of
vitamin A, retinol is a gold-standard anti-ageing ingredient. Being a natural exfoliator, it improves cellular turnover and reduces wrinkles by boosting collagen. It enhances the natural repair ability of the skin by penetrating deeper layers and gives you a youthful and radiating look. It has a rejuvenating effect that helps restore UV-damaged tissue and
improves the appearance of the skin.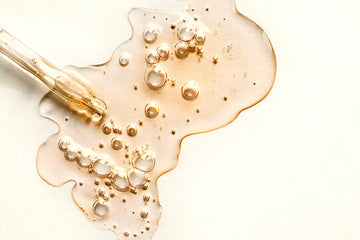 Retinyl Palmitate
A natural analogue of retinol, retinyl palmitate is lipophilic and primarily acts as a skin conditioner. Being non-irritating, it soothes sensitive skin. It penetrates the outer layers of the skin and works to repair the lower layers where collagen and elastin reside and thus reducing wrinkles and thin lines faster. It unclogs pores and keeps acne away. An excellent cosmetic ingredient, it improves skin brightness and keeps pigmentation at bay.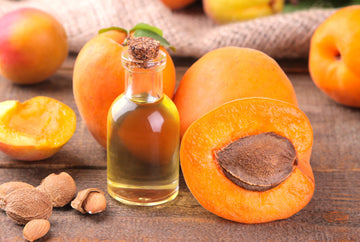 Apricot oil
Infused with vitamins A, C, and E, apricot oil makes your skin silky-soft and thoroughly nourishes it. It smoothens the texture and reduces dullness. Its essential fatty acids are super rich with antioxidant properties that replenish your skin's antioxidant reserve