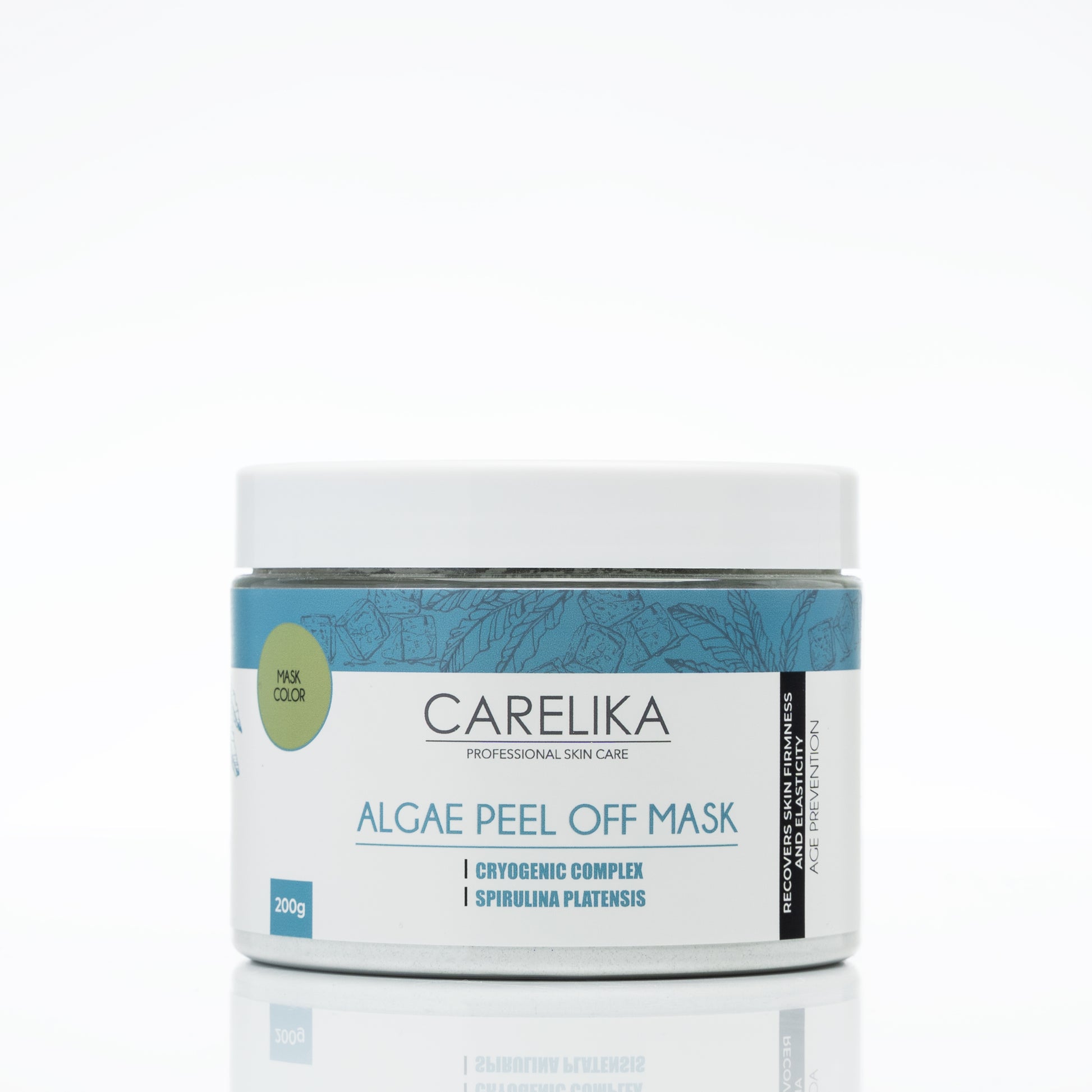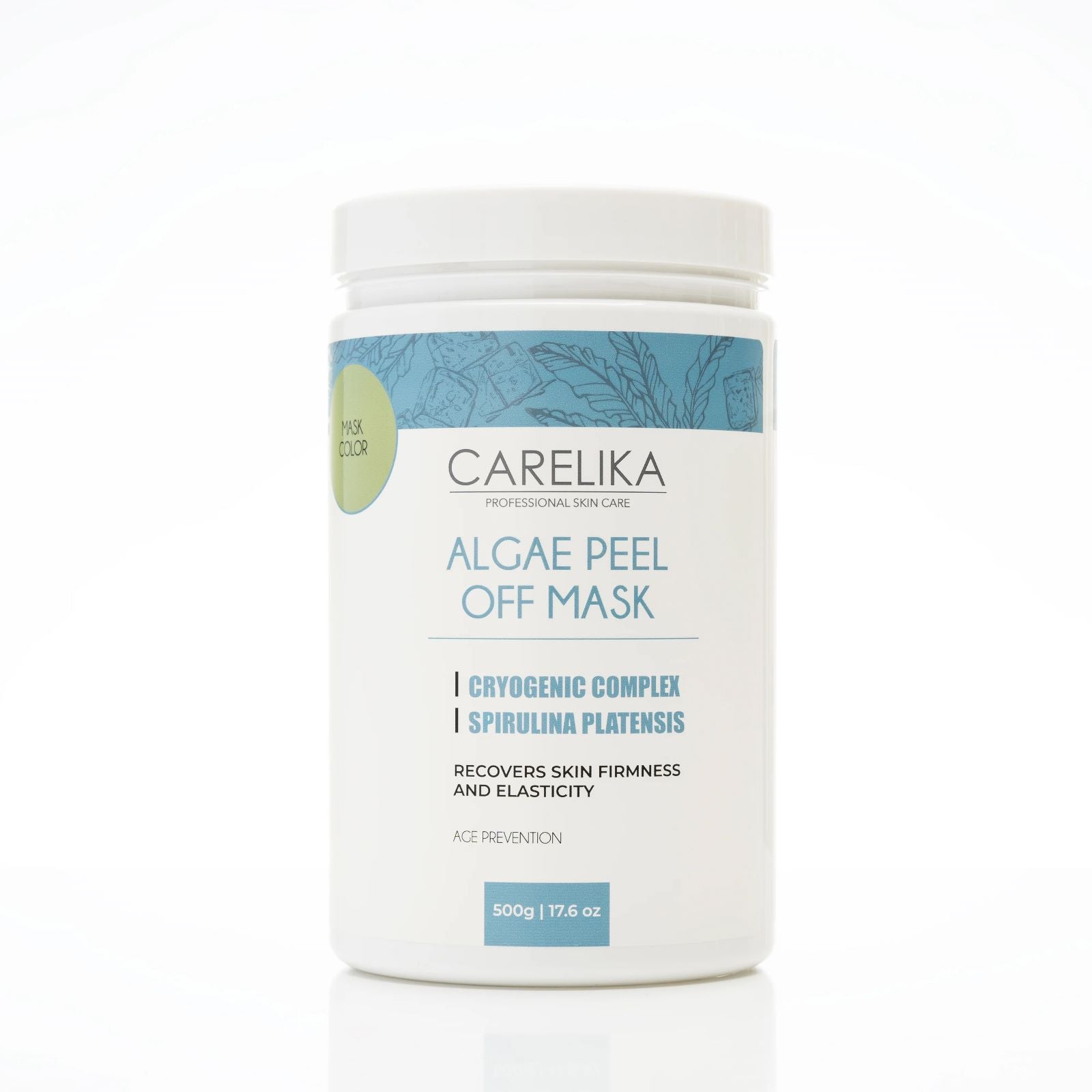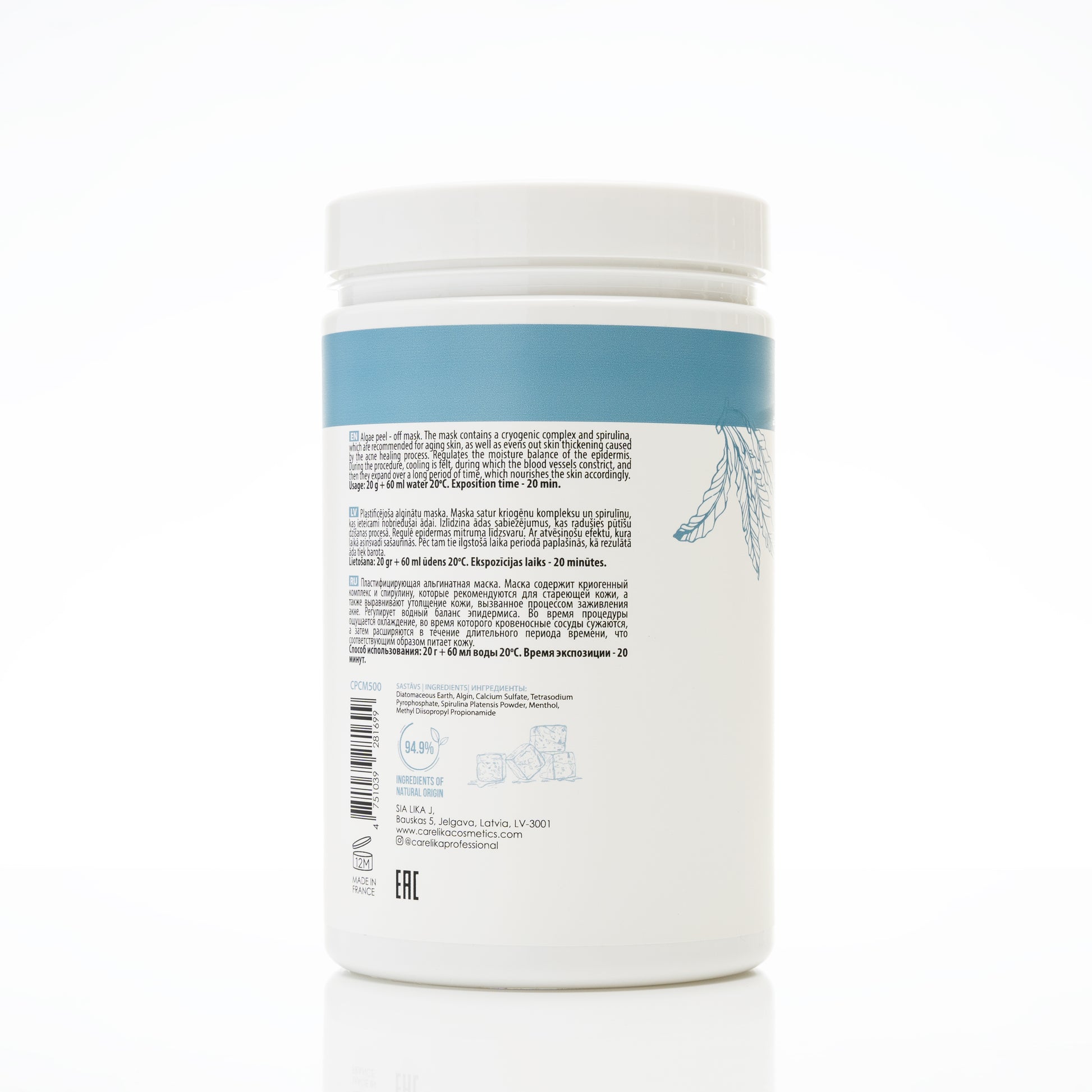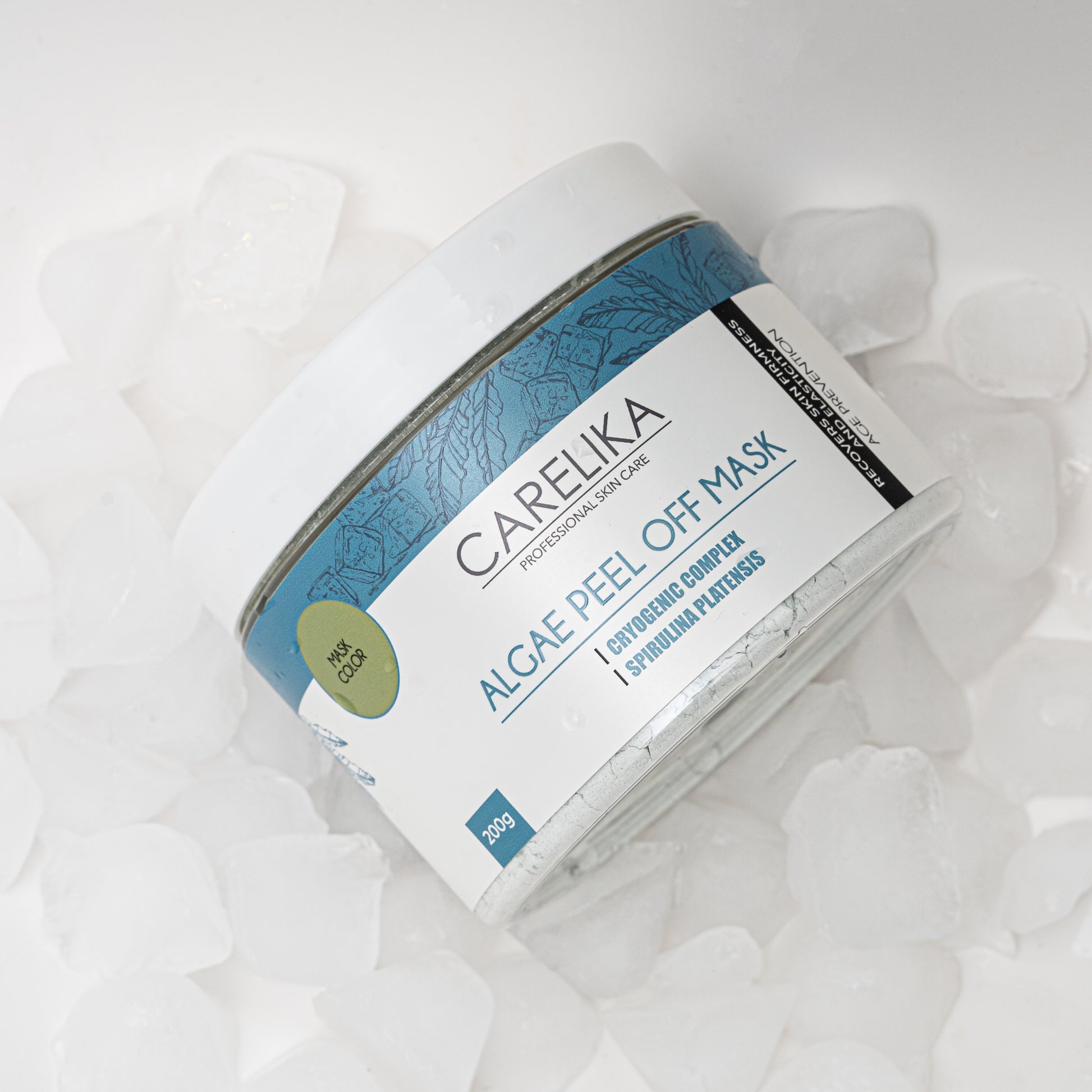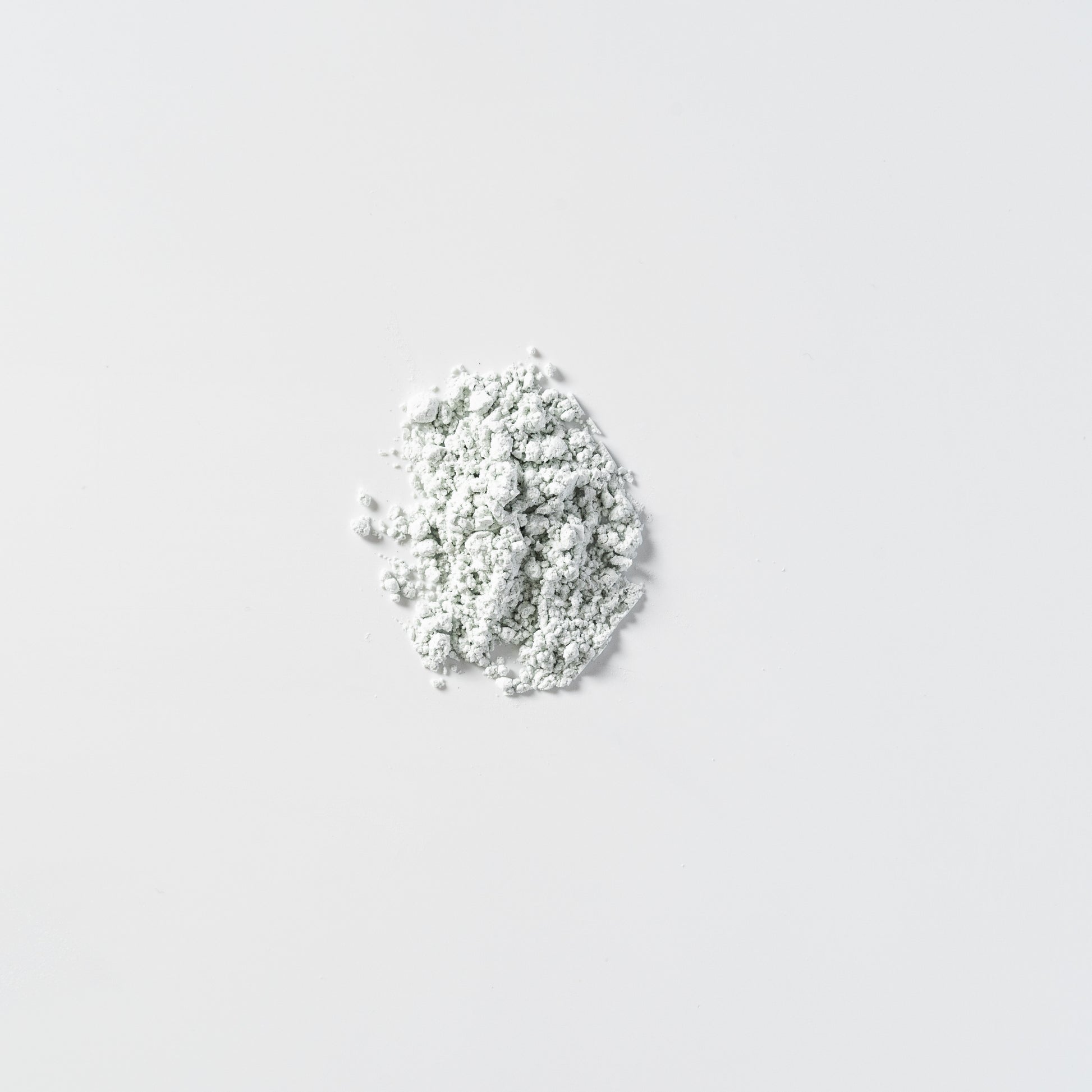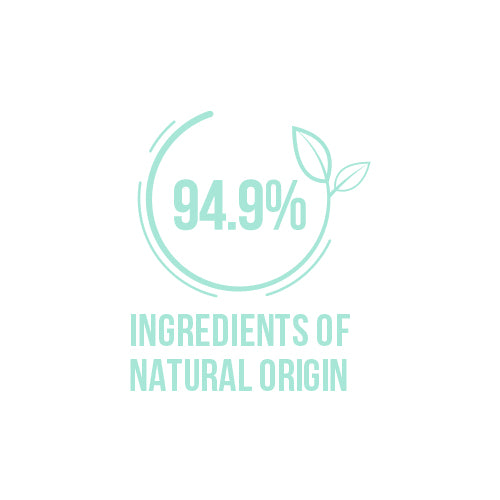 Algae Peel-Off Mask Cryogenic Complex Professional
What is it?
The CARELIKA Algae Peel-Off Mask with Cryogenic Complex is a special peel-off mask with a distinctive cooling effect due to the presence of cryogenic complex. It is enriched with crystallized menthol that provides a powerful cooling sensation that soothes the skin damaged due to sun exposure. Moreover, the mask reduces redness and inflammation due to acne. Indulge in the combined benefits of cool menthol and spirulina that transform a rough texture into a super soft one. Its antioxidant nature helps fight off the ageing signs.
Easy to mix with water, the alginate-based mask will never leak while applying and is also easy to remove in one piece!  It's a no-mess mask that you don't have to wash off. While on the face it protects the collagen and elastin in your skin giving you a firmer look and radiance. With improved blood circulation and nourishment, it gives your skin a healthy appearance.
Just chill and enjoy the refreshing and cooling effect of menthol as you make this mask a part of your beauty ritual!

What does it do?
Improves skin tone.

Clears off acne and reduces damage caused by sun exposure.

Reduces redness and irritation to give a soothing effect.

Evens texture by removing roughness.

Gives an anti-ageing effect.

Gives a soft and supple feel.

How to use it?
Ingredients
For the best results use the mask as suggested below:
Mix 25 g of powder with 75 ml of water at 20 °C in a bowl or directly add required quantity of water to the container.
Prepare a homogeneous paste with intense stirring for 5 – 10 seconds.
Apply the paste on the face using a brush.
Relax for 15-20 minutes as the mask solidifies.
Peel it off in one piece.
Apply a few drops of serum or cream
Diatomaceous earth, algin, calcium sulfate, tetrasodium pyrophosphate, spirulina platensis powder, menthol, methyl diisopropyl propionamide

It's the inside that matters!
Spirulina
Spirulina has outstanding anti oxidant activity due to the synergistic action of vitamins, minerals, oligosaccharides, enzymes, and co-enzyme. It helps improve skin microrelief by reducing skin roughness.  Rich in antioxidant molecules, spirulina actively fights against the free radicals responsible for ageing. It strongly improves skin strength, firmness, and smoothness through its restructuring properties.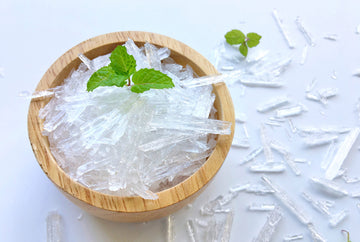 Crystallized menthol
Powerful cooling and refreshing menthol relieve inflammation and redness with its cooling ability. Its minty aroma leaves you refreshed and energised. It helps relax muscles, and improve blood circulation which helps skin cells to receive more oxygen, and accelerate cell renewal. It helps tightens the pores, makes your skin firm and strengthens the facial muscles like none other.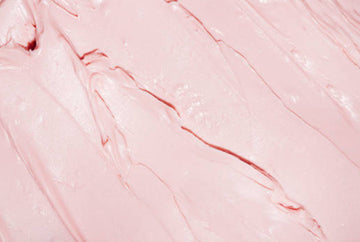 Alginate
Extracted from brown seaweed, alginate deeply moisturizes the skin. Its antioxidant, anti-inflammatory, and antibacterial actions help reduce inflammation and irritation. Being a rich source of nutrition, alginate nourishes your skin with a refreshing look. Get a supple, fresh, and clear complexion instantly!