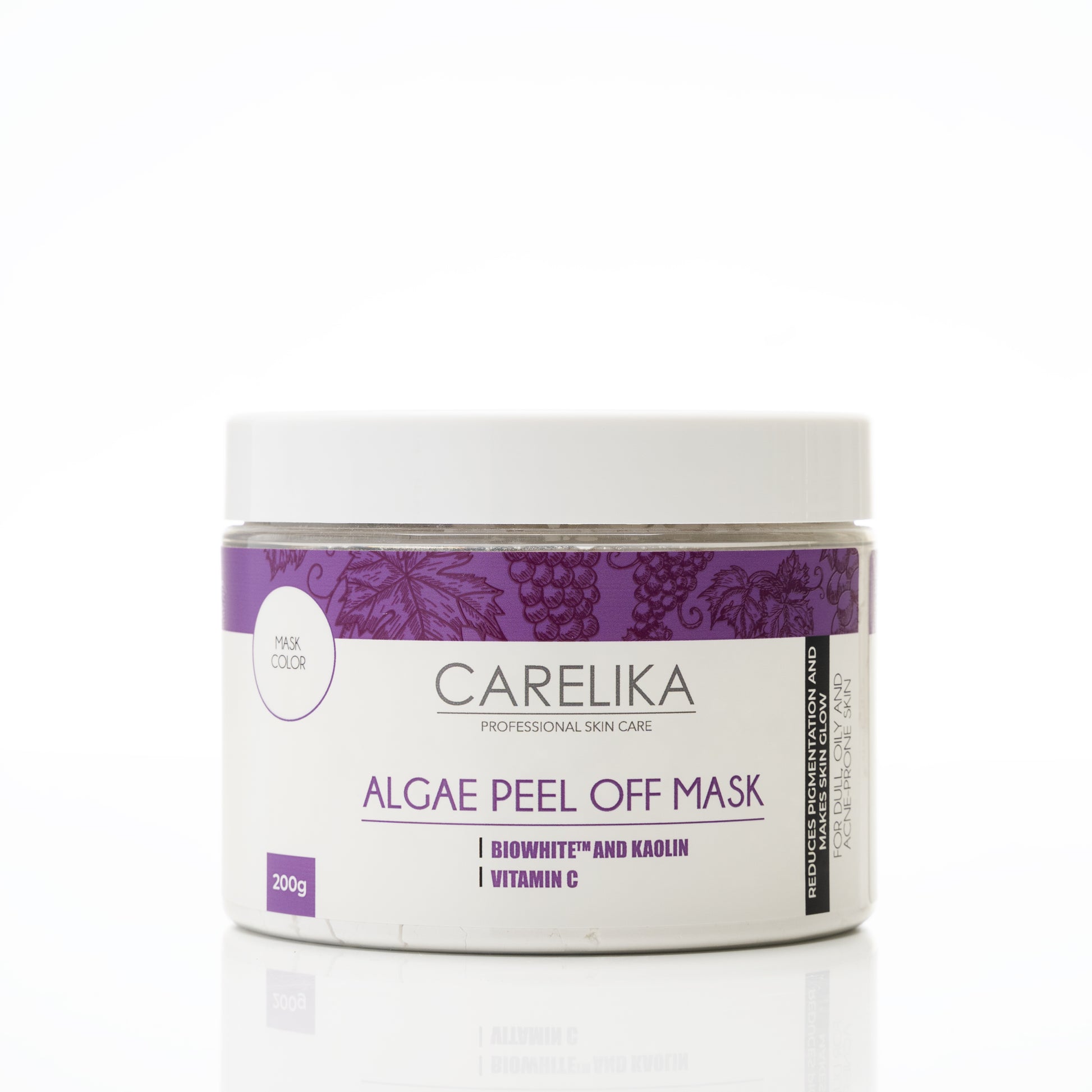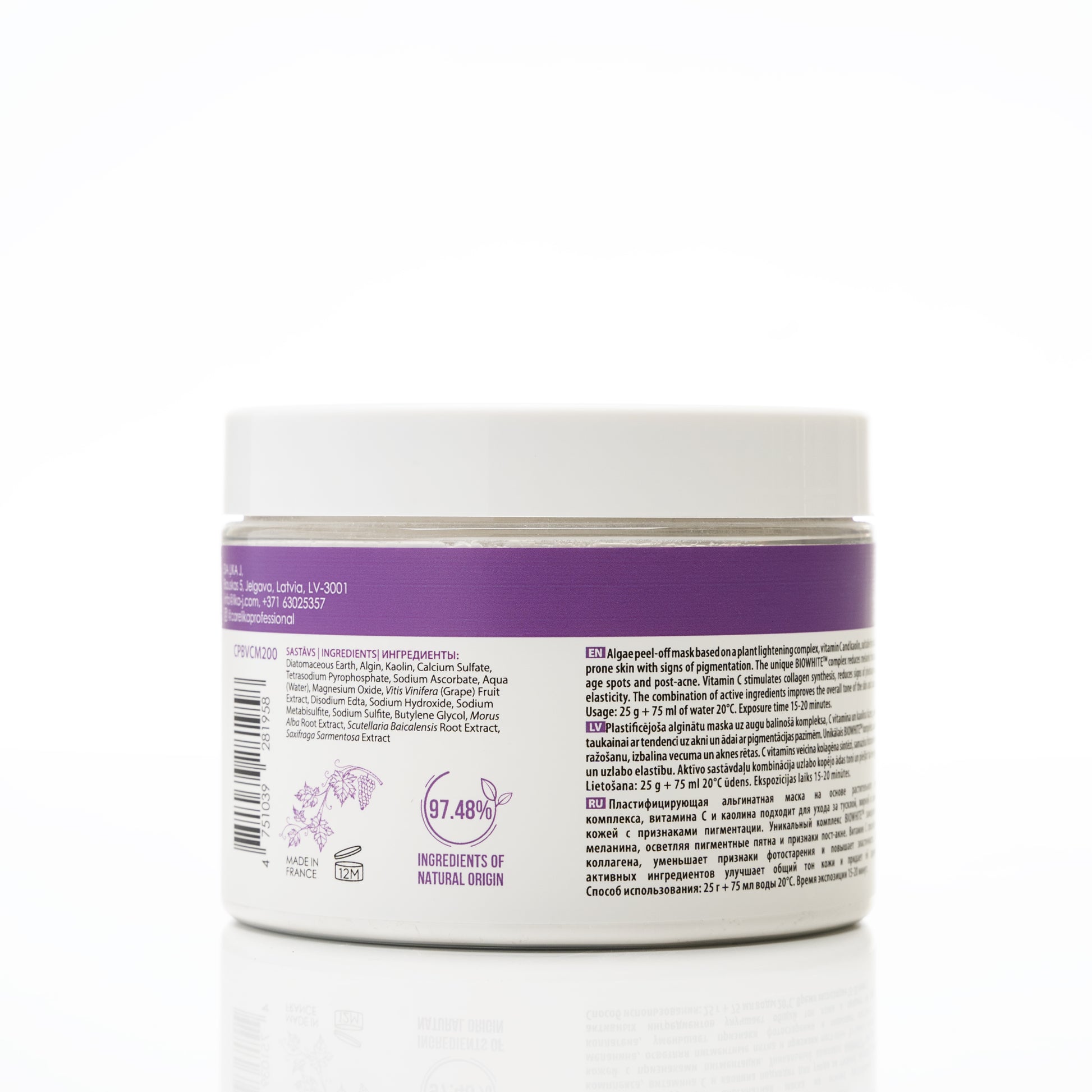 Algae Peel Off Mask Biowhite and Vitamin C Professional
Description:
Algae peel-off mask based on a plant lightening complex, vitamin C and kaolin, suitable for dull, oily and acne-prone skin with signs of pigmentation. It combines the benefits of natural origin ingredients to provide a comprehensive solution for improving skin tone and radiance. The unique BIOWHITETM complex works to reduce melanin formation, brighten age spots, and fade post-acne marks. Vitamin C stimulates collagen synthesis, reducing signs of photoaging and improving skin elasticity. With the combined power of these active ingredients, the mask helps achieve a more even complexion and a glowing, youthful appearance.
What does it do?
• Lighter and brighter skin;
• A strong antioxidant action tones the skin brilliantly;
• Boosts collagen production in the skin;
• Improve the skin's elasticity and balance oil production;
• Deeply hydrating properties replenish water content;
• Makes the skin look visibly energized with a youthful appearance;
• Rejuvenate, plump, and improve the radiance of the skin;
• Purify and refine for the skin texture.

How to use it?
Ingredients
Use the peel-off mask as per the following instructions for the best
results:
Mix 25 grams of powder with 75 milliliters of room temperature (20C) water. Thoroughly mix the ingredients to make a smooth, lump-free paste.
Apply the paste all over your face and neck avoiding delicate areas like the eyes and mouth.
Do not apply a very thin layer as it will not peel off evenly.
Now just relax! Allow the mask to dry for 15-20 minutes.
Gently peel off the mask, starting from the bottom and moving up.
No need to rinse!
Apply your favorite serum or follow with your regular skincare routine. For best results, use the mask once or twice a week.
Diatomaceous Earth, Algin, Kaolin, Calcium Sulfate, Tetrasodium Pyrophosphate, Sodium Ascorbate, Aqua (Water), Magnesium Oxide, Vitis Vinifera (Grape) Fruit Extract, Disodium Edta, Sodium Hydroxide, Sodium Metabisulfite, Sodium Sulfite, Butylene Glycol, Morus Alba Root Extract, Scutellaria Baicalensis Root Extract, Saxifraga Sarmentosa Extract
It's the inside that matters!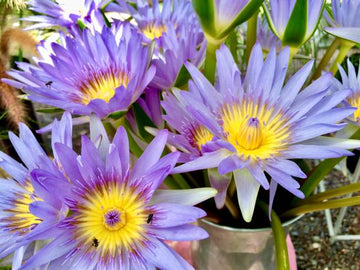 Plant Lightening Complex BiowhiteTM
It is a unique skin-lightening plant complex derived from synergistically acting plant extracts from scutellaria, white mulberry, saxifrage, and grape. It exhibits a potent depigmentation activity that assures illuminating skin. This plant complex works quickly to inhibit the tyrosinase enzyme and subsequently reduce melanin formation. It is the safest approach to reducing pigmentation and achieving clear, radiant, and glowing skin!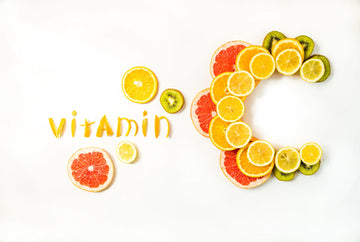 Vitamin C
A strong antioxidant that tones and strengthens the skin brilliantly!It promotes collagen synthesis for reducing wrinkles and also hasdeeply hydrating properties to replenish water content in the skin.Being a free radical scavenger, vitamin C limits the damage caused byUV radiation exposure and protects against ageing caused byUV-induced free radicals.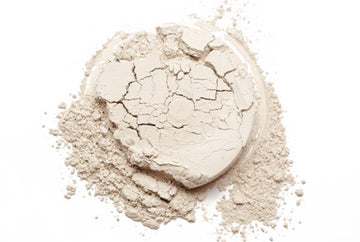 White Clay
Also known as Kaolin, white clay is a natural soft clay best suitedfor sensitive skin. It is an ultrafine light powder that has superabsorbent power to drag excess oil and sebum and detoxify your skin.It opens clogged pores, prevents acne outbreaks, boosts bloodcirculation, and reduces inflammation of the skin.