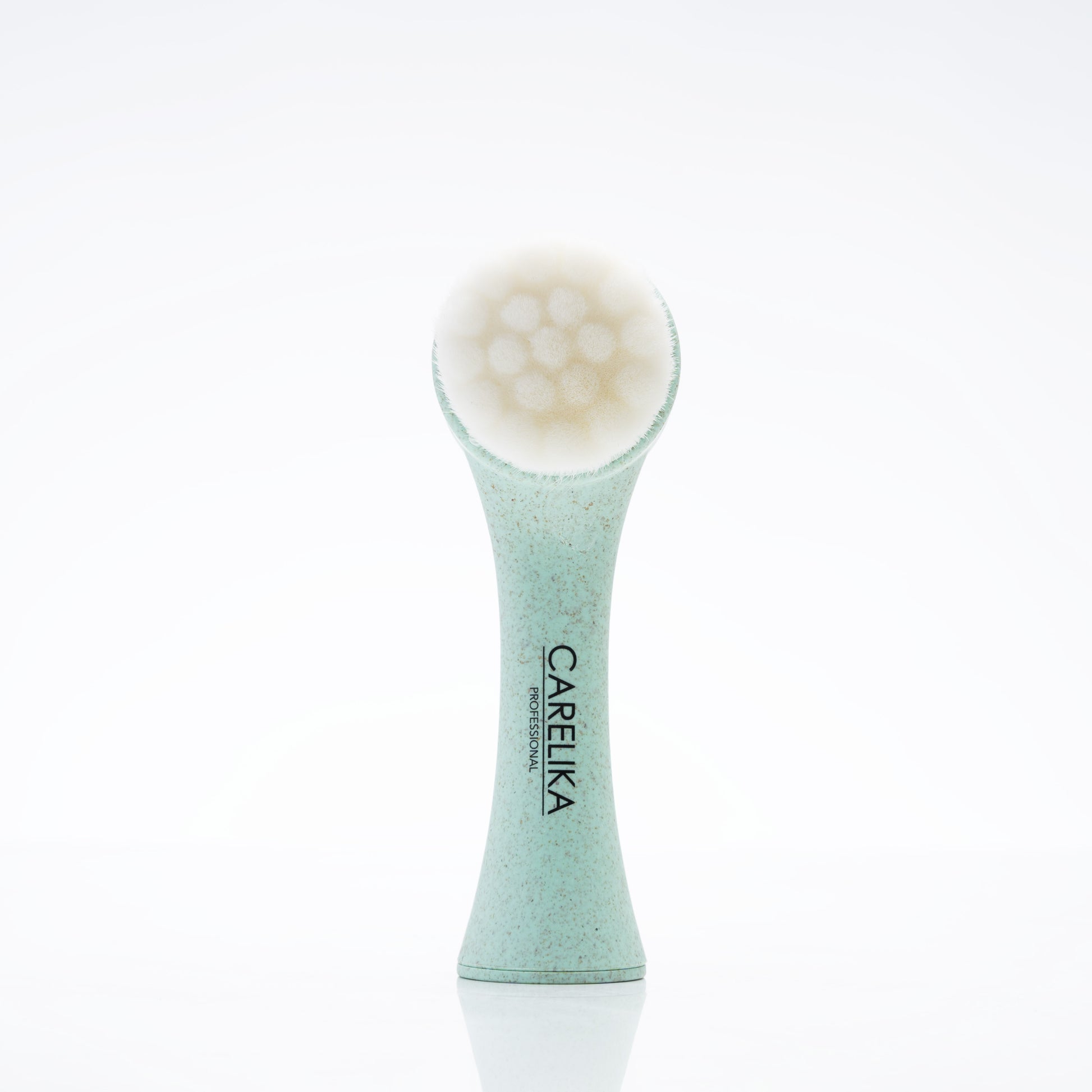 3D Massage Brush for Facial Care
What is it?
CARELIKA 3D massage brush for facial care is a perfect two-in-one facial care. It is a manual cleanser that is durable, sturdy, and water-proof allowing it to use in the shower or bath without worry.
It is a double-sided brush that has cleansing microfiber bristles on one side and a soft silicone small bristles on the another. The microfiber bristles are specifically designed to clear away makeup, dirt, oil, and dead skin. The bristles are flexible and hence can effectively reach hard-to-clean areas like the sides of your nose. It helps unclog the pores and allows your skin to breathe. Massaging using a silicone brush helps improve blood circulation, skin elasticity, and collagen production, and also normalizes the secretion of sebaceous glands.
This 3D massage cleansing device has an ergonomically designed handle that fits your hands perfectly and thus provides a comfortable grip. Now enjoy spa-quality facial care at your own home or while you travel. It is lightweight and compact, easy to carry and store. For best results use this 3D massage brush with a wide range of cleansers offered by CARELIKA like SOS Cleansing Powder.
Give your face the ultimate cleansing experience!
How to use it?
Benefits of 3D Massage Brush
How to use it?
Moisten the brush with lukewarm water.
Apply cleansing product on the bristles or directly on your face.
Massage the face with gentle round movements, avoiding the eye zone.
After thorough massing, wash your face with plenty of water and pat dry.
Apply your favorite serum and massage using the silicone side of the brush till it gets absorbed.
After use, wash the brush and allow it to dry.

For best results follow the procedure 2 – 3 times week. Waste and toxins released by cupping.
What does it do?
Gently exfoliates and provides deep cleansing
Unclogs pores and normalizes sebum secretion
Improves blood circulation and skin elasticity
Helps improve collagen production
Helps improve a luminous complexion